Bhagwan Shree Swaminarayan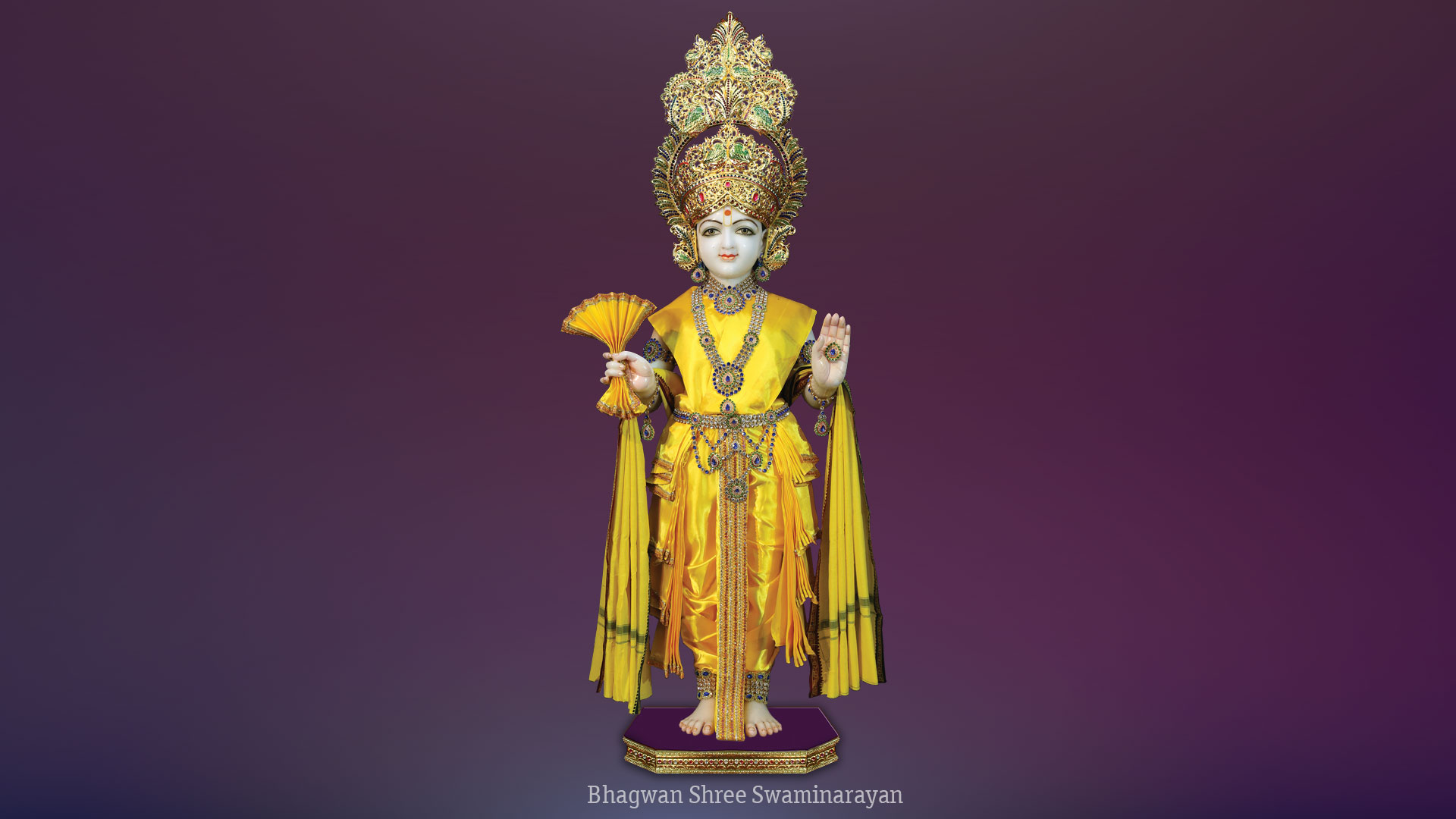 Bhagwan Swaminarayan (April 2, 1781 – 1830) was born to a samvedi brahmin family in the village of Chhapaiya, Uttar Pradesh, India. His father's name was Dharmadev and his mother's name was Bhaktimata. After serving his parents, he left home at the age of 11 to travel over 8,000 miles throughout India on a holy pilgrimage for 7 years, 1 month, and 11 days. During his travels, Ghanshyam was given the name Neelkanth Varni for his fearless acts against nature's most ferocious animals. He eventually settled in Gujarat.
At age 21, he established Swaminarayan Sampraday, with the blessings of his Guru Sadguru Ramanand Swami. He initiated more than 1500 saints to spread the pious Sampraday. To achieve ultimate redemption he taught the "Swaminarayan" mahamantra.
To preserve the purity in the religion, he devised five basic Codes of Conducts for Haribhakt (Devotee) like not to steal, not to eat meat, not to drink, not to commit adultery, not to follow impurity and for Tyagi (Saints) like, Nishkam (Lust-less), Nirlobh (Greed-less), Nissenh (Attachment-less), Nisswad (Taste-less) and Nirman (Ego-less).
He established beautiful temples at Ahmedabad, Bhuj, Vadtal, Dholera, Junagadh, Gadhpur for Upasana – worshipping God in all His greatness & glory and Bhakti – Devotion. With all these, he gave a small but huge Code of Conducts with only 212 verses, The Shikshapatri. And the nectar of spiritual discourses performed by Bhagwan Swaminarayan, The Vachnamrutam.
Thus, in a short span of 49 years He revived Hinduism, glorified spiritual values and founded the Swaminarayan Faith and left for His Divine Abode, Akshardham.
The Founder
Shastriji Maharaj Shri Dharmajivandasji Swami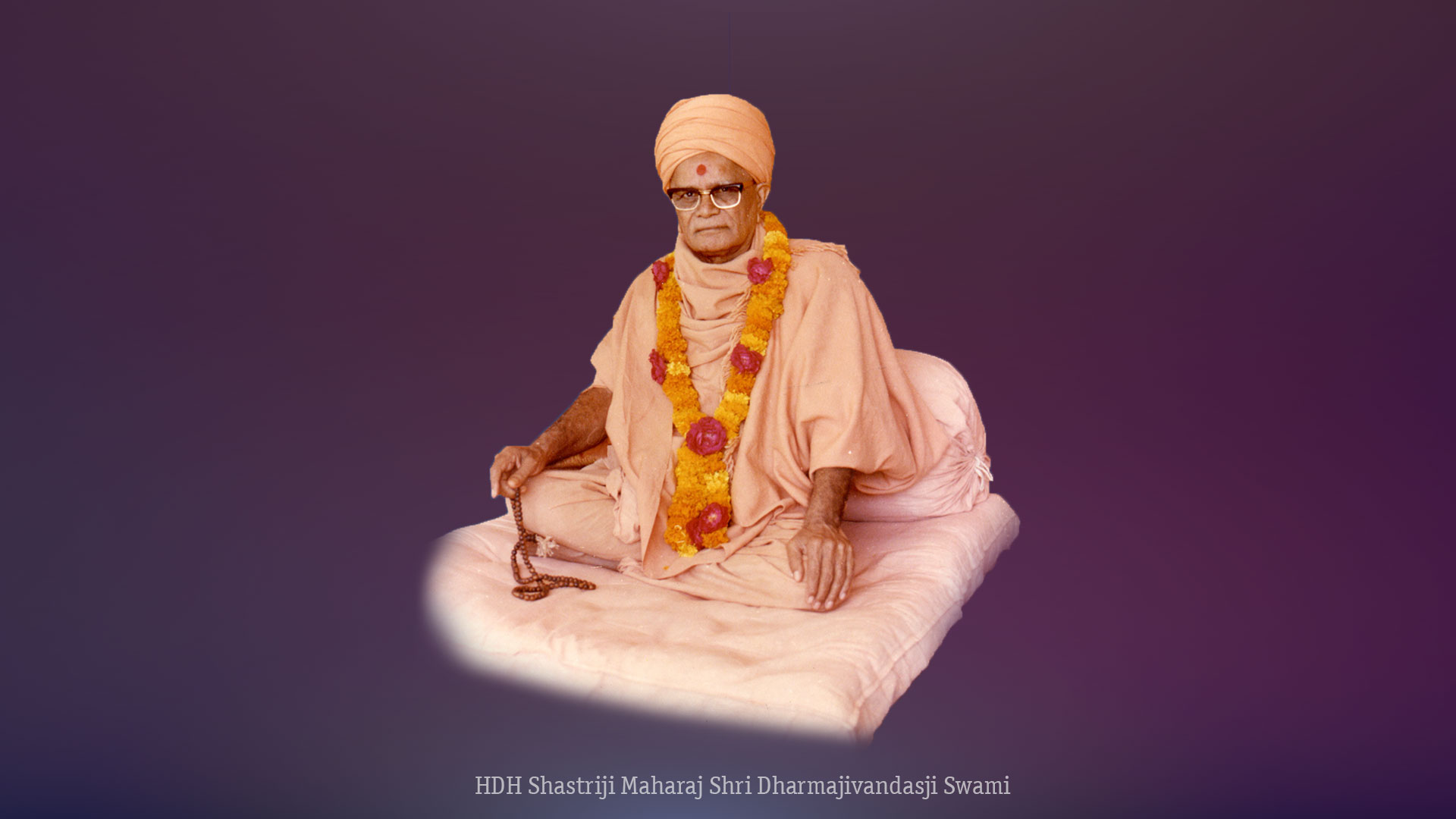 Shastriji Maharaj Shri Dharmajivandasji Swami was born on the auspicious Rathayatra day, Ashadh Sud 2, V.S. 1957, dated 18-06-1901, Tuesday in a holy family, in Taravada village, of Amreli District of Gujarat State, to a humble farmer named Bhurabhai Lakhani and mother named Virubai. He was named as Arajan. He was very brilliant and studious. He had natural inclination for spiritual learning and reading of religious scriptures.
He was a great successor of Gunatit tradition, a reformer of spiritual activities and Saint-Life. To assist this anarchic modern age and the immoral lives of this world, he pioneered Gurukul Tradition for the first ever time all over, in 1948 A.D.
Simple and Pious Life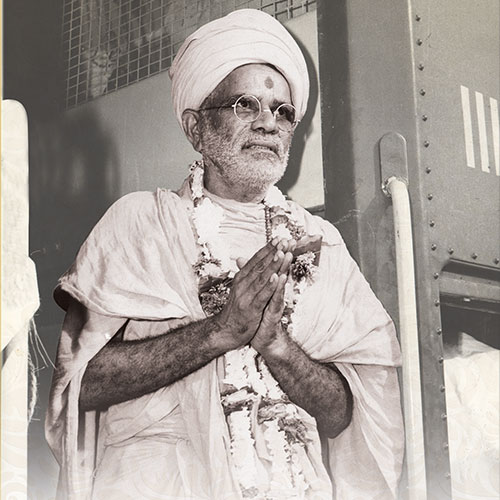 Shri Dharmajivandasji Swami led a very simple life of devotion, compassion, spiritual inquiry and strong righteous principles. This lifestyle had a major influence on his disciples as well. He led a very pious life of penance. He was able to sing more than 750 Keertans, recite 3000 slokas, and memorized all the 18 chapters of Bhagavad Gita in 18 days. He always emphasized the path of Bhakti and Dharma. Social welfare activities and betterment of the society were the pillars of his mission. He practiced a vow called Ayachak Vrat i.e., never to ask anyone for any money as donation. He had firm faith in God and believed that all the benevolent activities of the Gurukul should run only with the voluntary donations of the people inspired by the Almighty. This principle is still practiced as a vow by this Gurukul in all its activities. But his indomitable will power and staunch belief in the power of Bhagwan Swaminarayan, brought him success in all his endeavors. Success for him was nothing other than the betterment of the society. Success for him was not a destination, but journey. In fact, his life became the source of inspiration to so many saints of the sect, that they too started creating huge institutions for education and social welfare activities.
His Himalayan vision, which transformed the lives of thousands of people, still continues and will continue forever through his disciples, who with the same missionary spirit and zeal, are striving hard for the betterment of the whole world.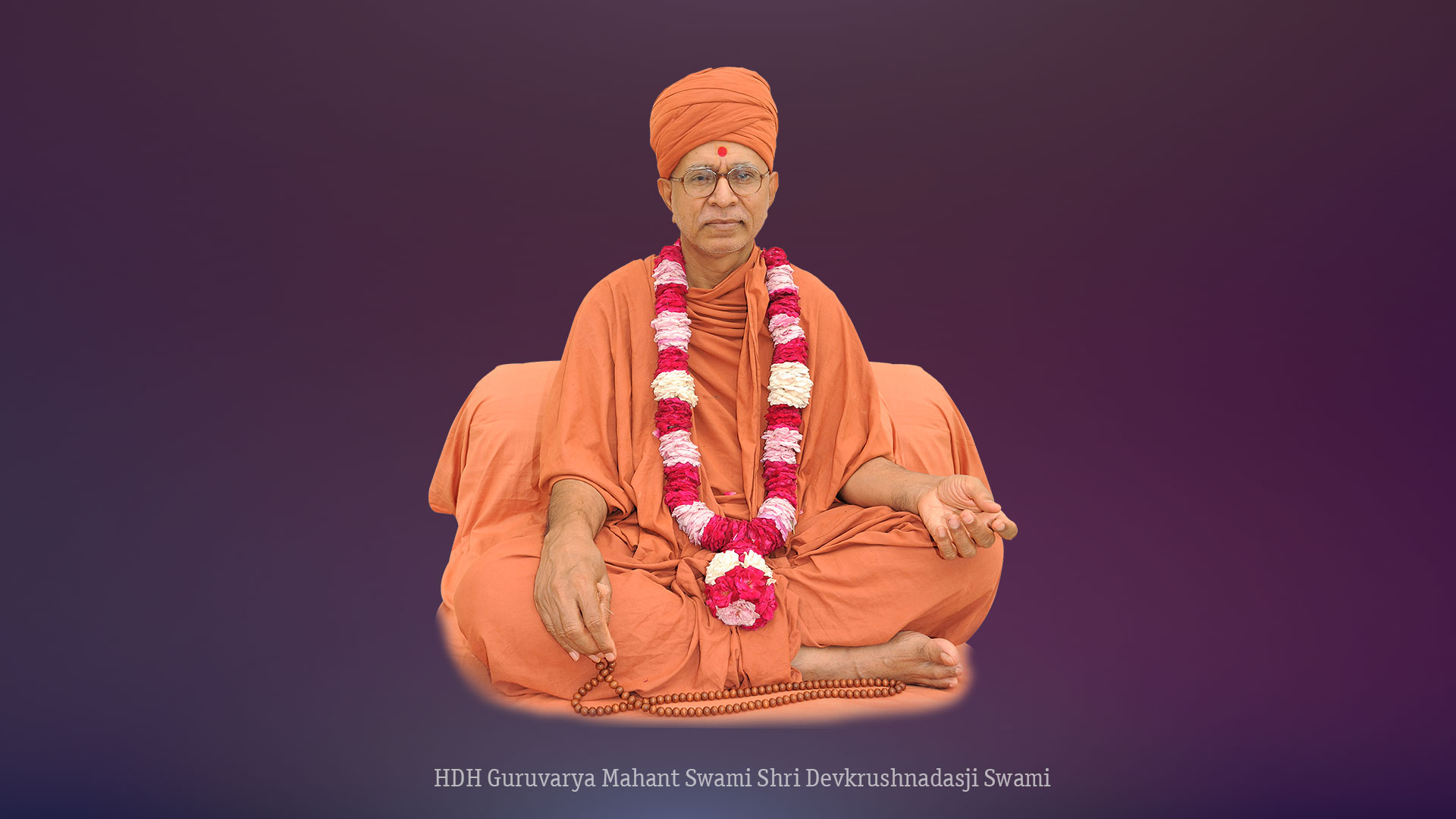 Birth: September 19, 1946
Initiation: Wednesday, 23 November, 1966, Vikram Samvat 2023, Kartik Sud 11
Spiritual Master: HDH Shastriji Maharaj Shree Dharmajivandasji Swami
After completing his B.A. Inter, took Bhagavati Deeksha (Sanyasa )from Acharya Shree Narendraprasadji Maharaj, Lakshminarayan Dev Gadi of Vadtal,
Honoured with the title, "Sadguru" by Acharya Ajendraprasadji Maharaj.
Honoured with the title, "Satsang Samvardhak" by Academy of Sanskrit Reasearch, Melkote, Karnataka.
Swamiji is a strong admirer of traditional value systems and the spiritual heritage of Hinduism. Being attracted towards serving the animals, he has organised more than 100 veterinary medical camps. Being an ardent supporter of environmental factors, he has personally participated in many tree planting ceremonies and encourages everyone to plant more trees. Along with his spiritual practices, he has got a keen interest in all sorts of social welfare activities of the Gurukul.
Swamiji is currently the Chief Operating Officer and the Managing Trustee of all the educational, social and religious activities of Shree Swaminarayan Gurukul, Rajkot and its branches.
The President
Sadguru Shri Devprasaddasji Swami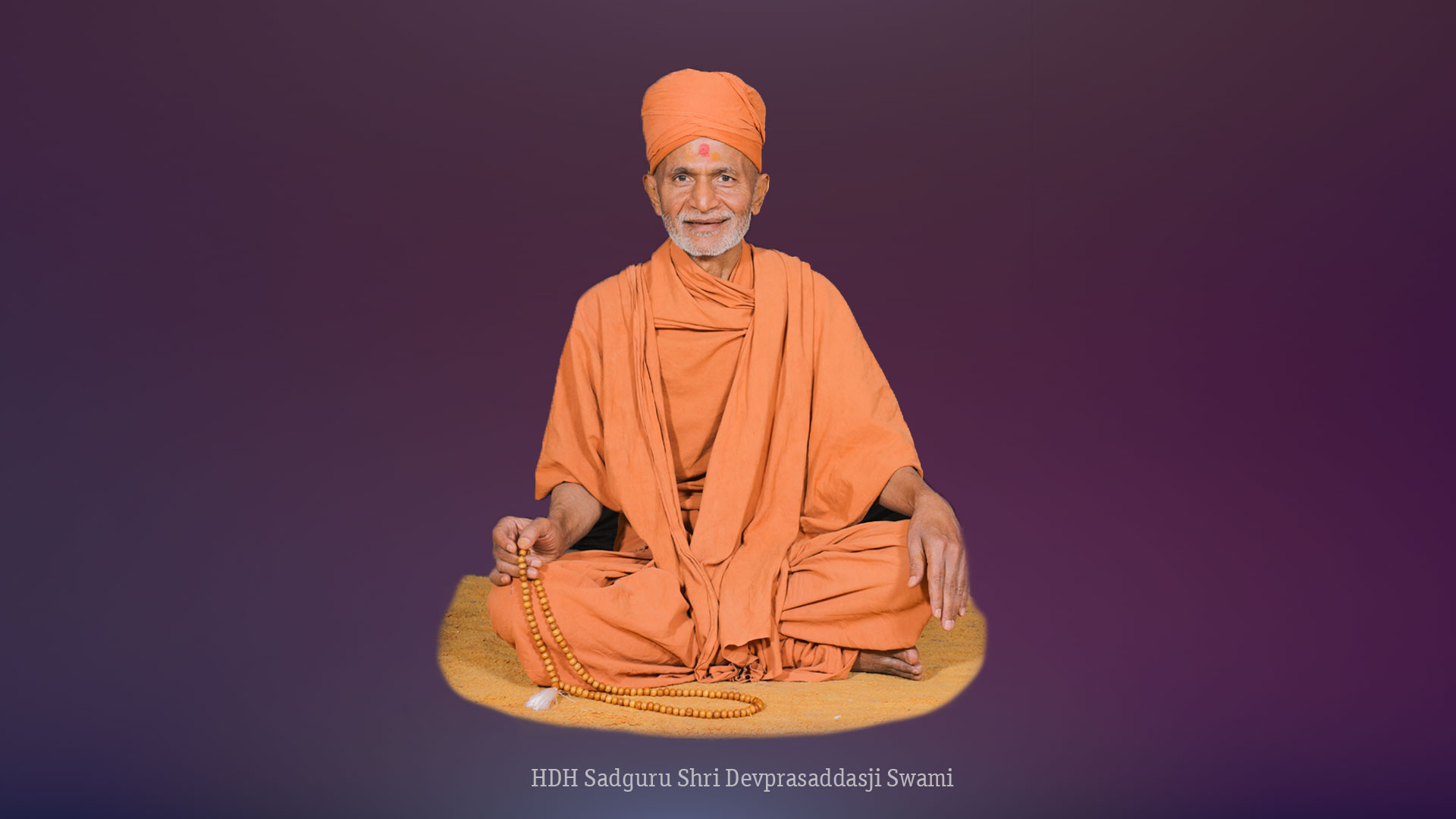 After completing his graduation, on 6 April, 1971, Sadguru Shri Devprasaddasji Swami took initiation from Acharya Shree Narendraprasadji Maharaj and joined in the service of Gurudev Pujya Shastriji Maharaj. In the beginning, he started teaching the students of Gurukul Rajkot by the guidance of Pujya Shastriji Maharaj. After then, he served the administration of Gurukul Rajkot.
In 1994, along with the other saints, he came to Hyderabad for a deep study of the Sanskrit literature. Looking at the restricted and devoted life of the young saints, local people started to have great feelings for the saints and the Hyderabad branch was established. Pujya Swami was assigned the complete responsibility of the branch and since then, Pujya Swami is the organizer of the Gurukul Hyderabad.
Pujya Swami has Great knowledge of The Vachanamrut. With the deep study and extensive thinking, he prepared the "Vachanamrut Chintan" – a scripture. Pujya Swami is also having the deep study of Grammer, Vedant, Nyay and the scripures, suggested by Bhagwan Swaminarayan.
His life with penance, spiritual virtues and services inspires us a lot!
Advisory Board
The complete advisory board of Shree Swaminarayan Gurukul Hyderabad operates under the efficient guidance of Sadguru Shri Devprasaddasji Swami
The entire advisory board comprises of committed and dedicated saints, renounced to serve the society. With their high degree of education and generosity to work, all the administrative departments of Shree Swaminarayan Gurukul are managed under the direct supervision of these saints. They hold the credits to sow the seeds of Sanskaar, the real ethics & values, in the budding citizen of this heritage rich India. Their always encouraging nature and soft behavior craft a child to an ideal individual.