197th International Rank in SOF – NSO (National Science Olympiad)
Achievements & Awards
---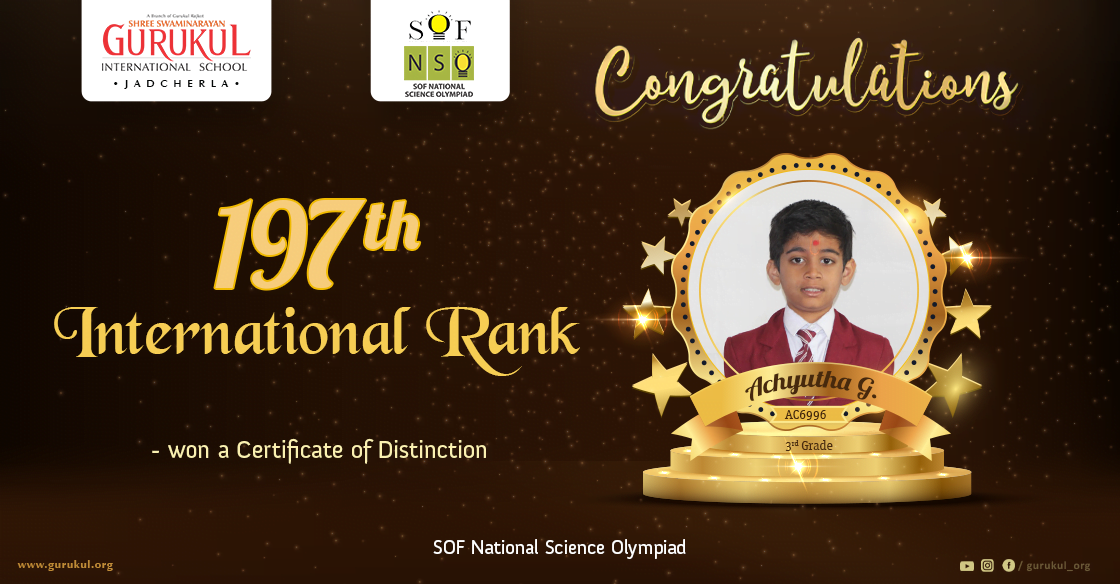 The National Science Olympiad  (NSO )  is a science  competition for students of classes 1 to 12. It is organized  by (SOF)  Science Olympiad Foundation, New Delhi.  
The aim is to identify and nurture the future scientists, technologists & IT talent at school level. Participants of NSO are  ranked on the basis or ranks obtained  in 1st level. After ranking the first level of test  students can judge themselves academically  at 4 different levels. 
School  level
City level
State level
International level
Shree Swaminarayan Gurukul International School Jadcherla is always a pioneer Organization in fusing modern technology & International Standards with our Vedic culture. 
SGIS Jadcherla  has brought laurels to the organization of Our Gurukulite Master. N. Achyutha  of Grade  3 secured 197th  Rank at International  level.  This is a great achievement  for the school, teachers & stakeholders.
Achyuth  gives credit to Gurukul  in terms of excellent teaching & timely mentoring by his teachers. 
He conveys his thanks to Gurukul for the disciplined, holistic approach  in Gurukul which boosts to get excellent results.
To Crack this rank Gurukul teachers trained him in such a way that  explaining the  Concepts , Definitions & practicing the mcq bits of previous model papers.
Pujya Swamji's blessed Master ACHYUTH & greeted his parents on this glorious achievement and prayed for his bright future.