Celebrating a Cultural Milestone: Top 9 Students from Shree Swaminarayan Gurukul School
Achievements & Awards
---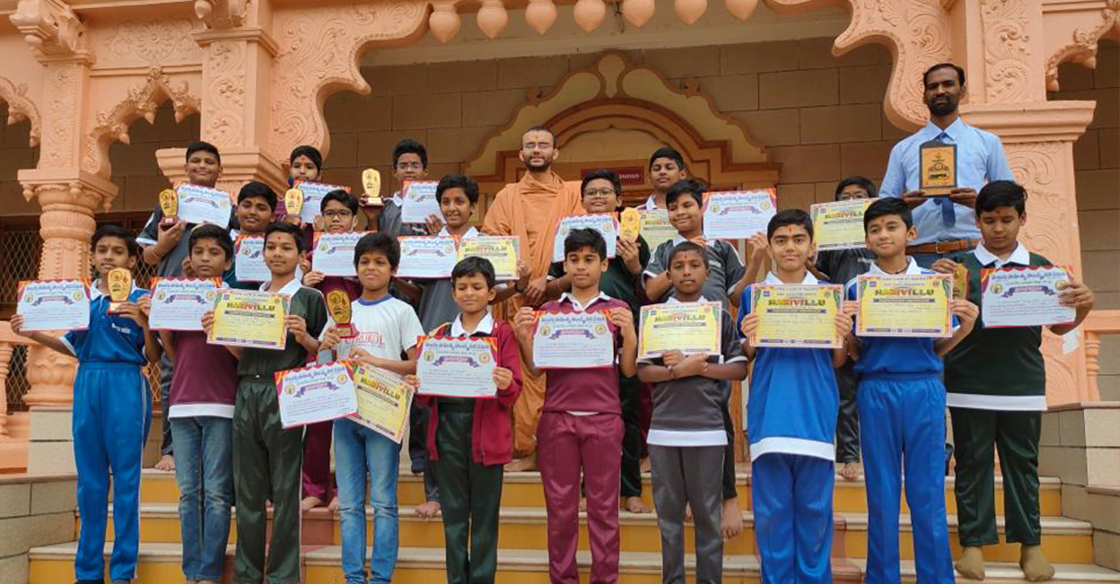 In the picturesque town of Palamaneru, nestled in the heart of Chittoor district, Andhra Pradesh, a significant cultural event took place – the first-anniversary celebration of the Telugu Sahitya Samakhya (Telugu Literature and Cultural Association). This event was marked by the National Level Telugu Essay Writing Competition, wherein the top 9 students from Shree Swaminarayan Gurukul International School Hyderabad were recognized and felicitated for their exceptional writing skills.
The Telugu Sahitya Samakhya has been working tirelessly to preserve and promote the rich heritage of Telugu language and culture. Organizing events like the Essay Writing Competition aims to instil a love for literature and language among the youth while encouraging them to explore and express their thoughts effectively.
The competition witnessed enthusiastic participation from Gurukul school students across the district. Shree Swaminarayan Gurukul International Schools have long been known for providing a holistic education emphasising traditional values, academic excellence, and character development. These schools have played a crucial role in nurturing young minds and preserving the cultural essence of the region.
The top 9 students who made it to the finals showcased their linguistic flair, creativity, and depth of knowledge in their essays. The topics ranged from contemporary social issues to historical events, and the participants exhibited a remarkable understanding of various subjects. The judging process was rigorous, with experts in literature carefully evaluating each essay to determine the winners.
As the winners were announced, the joy and pride on the faces of the students, parents, and teachers were evident. The young minds had not only excelled academically but also demonstrated a profound connection to their roots and culture. Such initiatives play a crucial role in nurturing talent, encouraging creative thinking, and preserving the linguistic and cultural heritage of the region.
Events like the National Level Telugu Essay Writing Competition allow students to express their thoughts freely and fearlessly. It helps boost their confidence and motivates them to pursue excellence in their academic and literary pursuits. Additionally, it reinforces the importance of regional languages and their contribution to the country's diverse cultural landscape.
The Telugu Sahitya Samakhya's efforts in promoting literature and culture deserve commendation. Their dedication to nurturing young talent and preserving the essence of Telugu heritage will undoubtedly pave the way for a brighter and culturally enriched future. As we celebrate the success of these talented young writers, let us be reminded of the power of language and its ability to shape our identities and connect us with our roots.