Dweep Sabapara, All Indian 9th rank in IES Exam
Achievements & Awards
---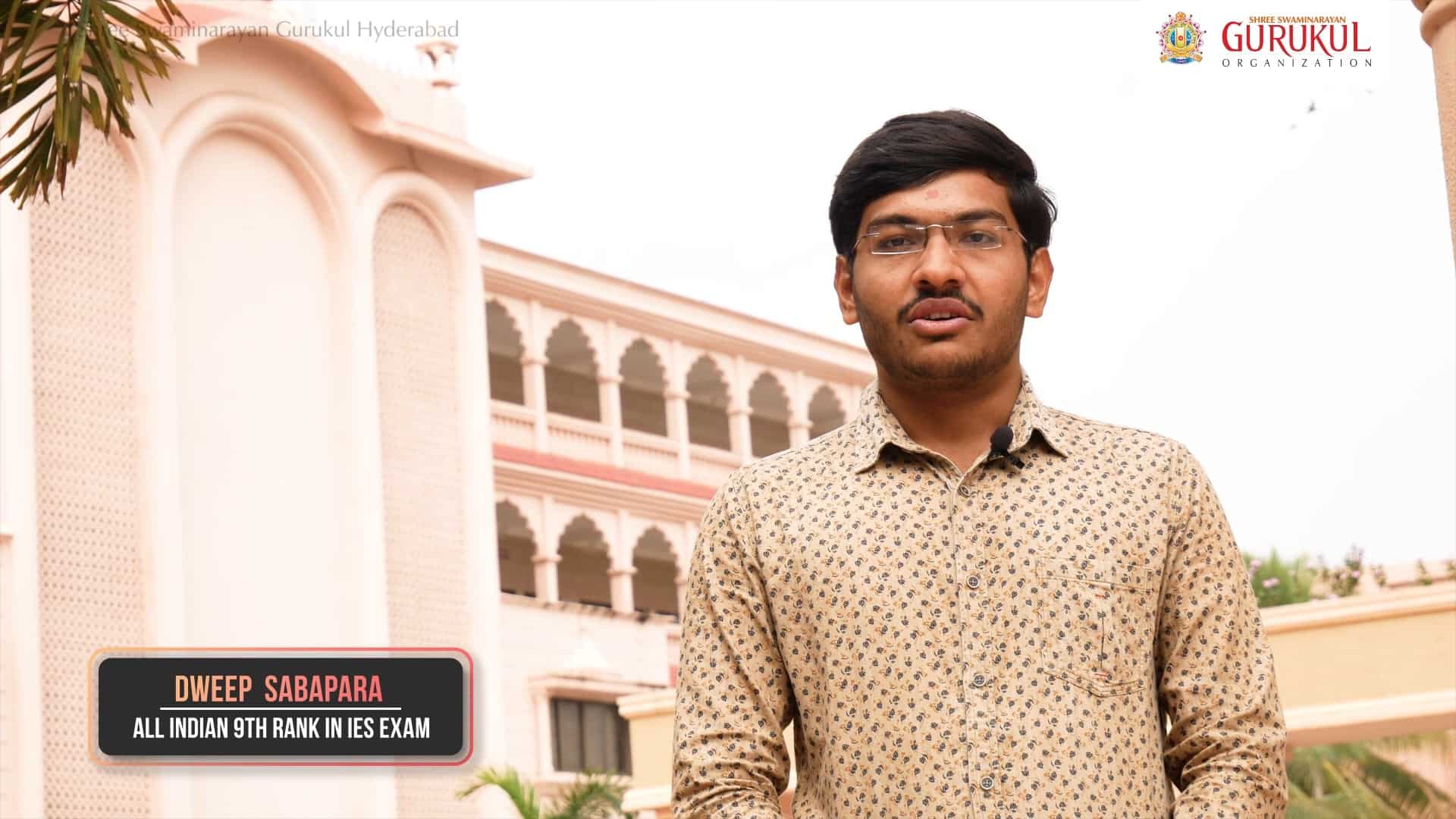 IES refers to the services that cater to the technical and managerial functions of the Government of India. The apex government body Union Public Services Commission (UPSC) conducts the IES exam and the Union Government of India appoints IES officers based on the recommendations made by the UPSC.
IES exam is considered to be a very tough exam not just in India but the world over (because of the limited number of vacancies available.) Owing to the degree of toughness of the exam, the candidates who clear the IES exam and become IES officers enjoy immense respect and stature in the society. Most of the IES officers are associated with the public sector units including roads, railways, inspection, manufacturing, power, public works, and telecommunication. Graduates clearing or topping IES are usually from Indian Institute of Technology or Indian Institute of Science. The examination comprises a written test followed by a personal interview. There were 3 stages in UPSC IES exam prelims, mains and personality interview.
We feel immense pride & honoured to share with our esteemed parents that our Hyderabad campus ex Gurukulite has recently cracked the IES.
His name is Sabapara Dweep Manishbhai who was a Gurukul student from 2006 to 2011. He completed SSC (Grade X) from Shree Swaminarayan Gurukul Hyderabad. Then he moved to his native state Gujarat where he secured 97% in MPC in HSC (Grade XII) in which he was ranked I at district level in Morbi, Gujarat. As he kept passing the exams with flying colours, his dream of career in engineering provoked him to explore new horizons.
He completed B.Tech. in Mechanical engineering from Nirma University, Ahmedabad. During the last semester during campus selections, he got placement in engineering giant L&T Limited with an attractive package. At this junction, he could have happily continued with engineering corporation. But he can never forget SANSKAARS and Gurukul saints from whom he learnt in Gurukul esp. his deep divine attachment with Lord Ghanshyam Maharaj & HDH Devprasaddas Swamiji. He wanted to do big & serve the society as he didn't find this job which can help him to do something extraordinary for his country.  After 10 months, he resigned and started preparing for GATE and IES.
He secured AIR 177 in GATE 2019. A total of around 2,00,000 candidates from Mechanical engineering appeared in ESE (Engineering Services Examination) Prelims out of which only 795 candidates were shortlisted for 2nd stage (Mains). And from ESE mains only 261 candidates were qualified for personality interview. Finally, 87 candidates were selected for post of Class-I Officer in IES. Out of which he secured AIR 9 in Indian Engineering Service (IES) conducted by UPSC.
This achievement is indeed an eye opener for many other thousand students who join Gurukul every year with new hopes, new dreams and eye sparkling with great energy and enthusiasm.
The boy, his parents & family members have expressed deep gratitude to the saints and their unmatched commitment towards "Transforming Lives" .