Gurukulite Wins Laurels at State Level Karate Competition
Achievements & Awards
---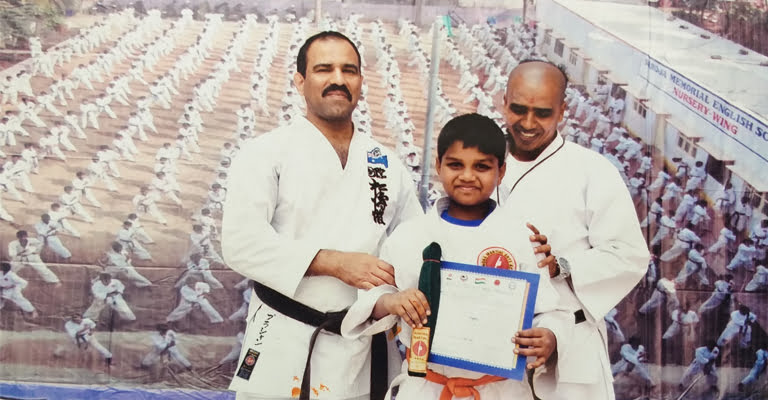 Sports teaches you character, it teaches you to play by the rules, it teaches you to know what it feels like to win and lose-it teaches you about life. The person who realizes the true meaning of this, is the one we call a true sportsman.
Indulging yourself in sports provides you not only physical fitness, it also encourages holistic development in an individual by strengthening his mind and his body.
The long and old debate between the balance of sports and academics Is adequately and strongly answered by great sportsmen like Shaquille O' Neil who has completed his PhD and MBA and is a pro NBA player, and who can ignore our very own Rahul Dravid who has a Bachelors Degree in commerce from St. Josephs in Bangalore. When we have these many famous live examples in front of us, it is clear that sports and academics can be balanced on both sides of the scale. One such sport is none other than karate.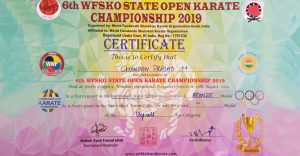 Very little is known of the exact origins of karate before it appeared in Okinawa, but one popular theory states that it came from India over a thousand years ago, brought to China by a Buddhist monk called Bodhidarma ("daruma" in Japanese). As legend describes it, Bodhidarma arrived in Shaolinsi and began teaching Zen Buddhism as well, a style of temple boxing based on exercises designed to strengthen the mind and body. Karate, in its original sense is defined as an oriental system of unarmed combat using the hands and feet to deliver and block blows. Widely practiced as a sport, it is gaining popularity among the public and is providing wide open windows for aspiring martial artists, as the people who practice karate are known, to showcase their skills on a public platform and now at present on a global level.
Most martial artists, start training at a very young age and work hard to not only strengthen their body, but also their mind. Most of these martial artists, prefer solitude, while some of them participate in tournaments globally and showcase their talents to everyone watching.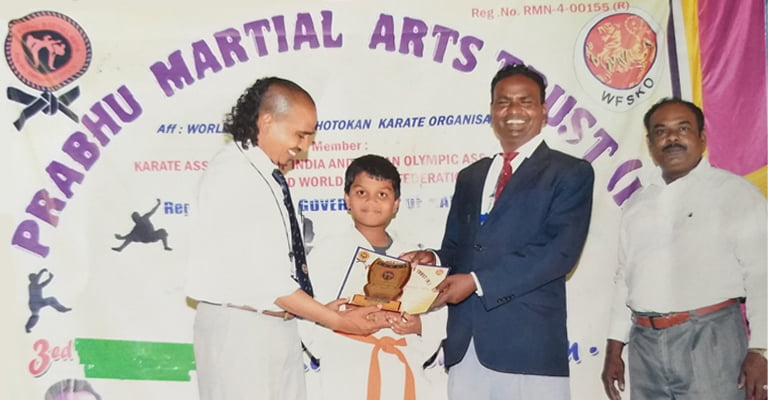 This is also the aspiration of one of our own students at Shree Swaminarayan Gurukul Bangalore who is none other than Master Chandan Prasad. He has been practicing karate from the age of 10 under the able guidance of his skilled coach Mr. Ashok Raj who is running an academy in Kengeri, Satellite town, Bangalore, and is a devoted employee of Shree Swaminarayan Gurukul Bangalore from the past 10 years. Chandan, with the skillful guidance of his coach and the hard work put in by him bore fruit and resulted in him winning the bronze medal at the state ranking competition conducted by WFSKO on the 25th of August, 2019 in Bangalore.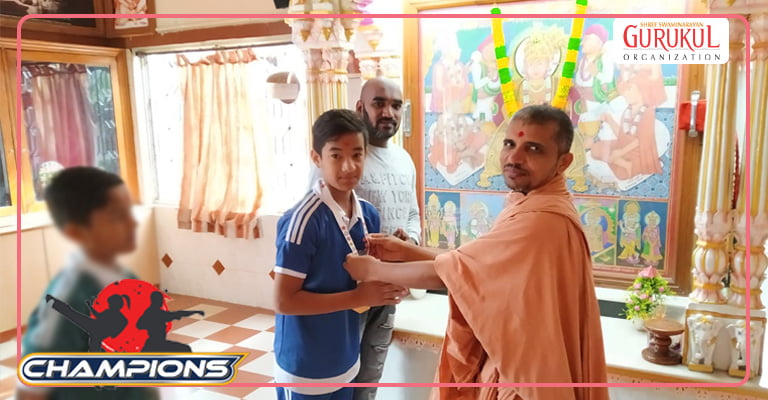 "He treats karate like a religion and wears his medals with equal pride in his heart. I have never seen him complain or crib when I ask him to practice for a little more time" were the very words of his coach when asked about his student. And indeed, it is also a proud moment for us at Gurukul Bangalore as well. His father Mister Mahesh, when asked about his son said "He wakes up at about 4 in the morning and trains from 5am to 6am in the academy and then attends his classes." The dedication level of Master Chandan has put him where he is today.
" We at Swaminarayan Gurukul Bangalore wish him all the best for all his future endeavors and pray for him with all our heart. "
JAY SWAMINARAYAN