35th International Rank – SOF International English Olympiad
Achievements & Awards
---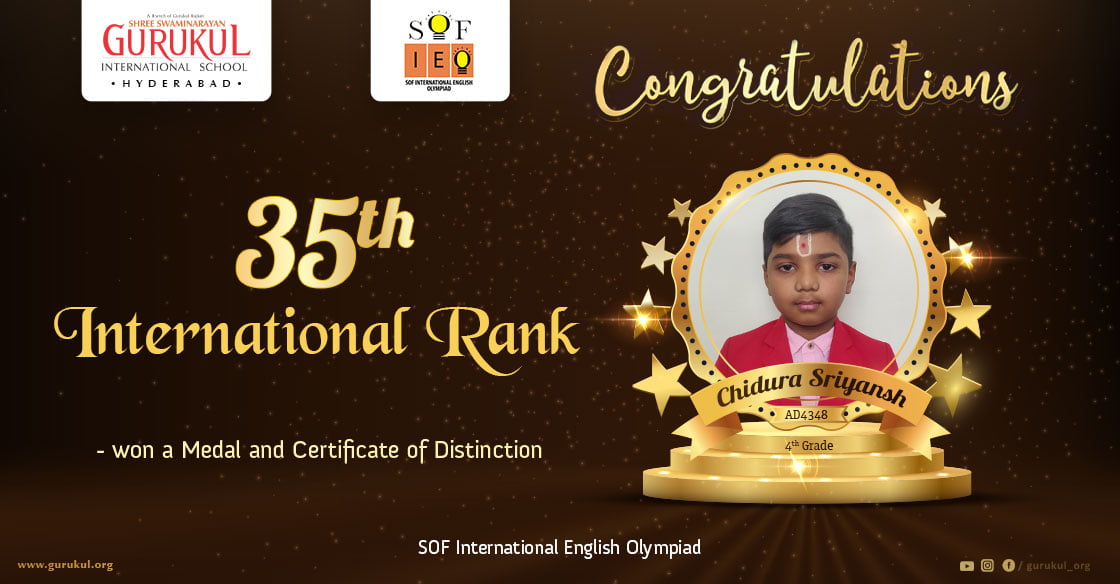 The SOF International English Olympiad (IEO) is a language-based proficiency exam conducted for students. This exam is conducted under the aegis of British Council with an aim to help students judge their efficiency in the English language with that of international standards. Students from all around the world compete for the English language. When students from different native languages come together with the spirit of competition, it promotes a sense of unity and individuality.
As Shree Swaminarayan Gurukul International School is always a pioneer in fusing modern technology & International standards with our Vedic culture. Gurukul Hyderabad has embarked this journey with a new milestone. Master C Sriyansh of Grade 4 scored 35th Rank at International level. This is indeed a remarkable achievement for the school, teachers & of course his parents.
Sriyansh gives credit to Gurukul in terms of excellent standards of teaching & timely regular mentoring by his teachers. He equally thanks to the disciplined holistic environment in Gurukul which boosts his overall morale & project his work towards excellent results.
To crack this rank, Gurukul teachers gave him certain tips like Effective Reading, enhancing vocabulary & sentence formation with equally efficiency in English Grammar as any language can only be mastered with practice.
We at Gurukul believes in a simple fact that children don't lack intelligence but the motivation to challenge themselves. Keeping same perspective in mind, many students of Shree Swaminarayan Gurukul through its 14+ branches across India compete in different State, National & International Olympiads, competitions and bring laurels to the school. The credit goes to his academically strong team, the blessings of their parents and Pujya Swamijis who have left all worldly happiness & desires just to transform the life of all Gurukul students.
Pujya Swamijis blessed Master Sriyansh & greeted his parents on this historic achievement and prayed for his bright future.