Key Decision Makers from Leading Schools of Hyderabad
Achievements & Awards
---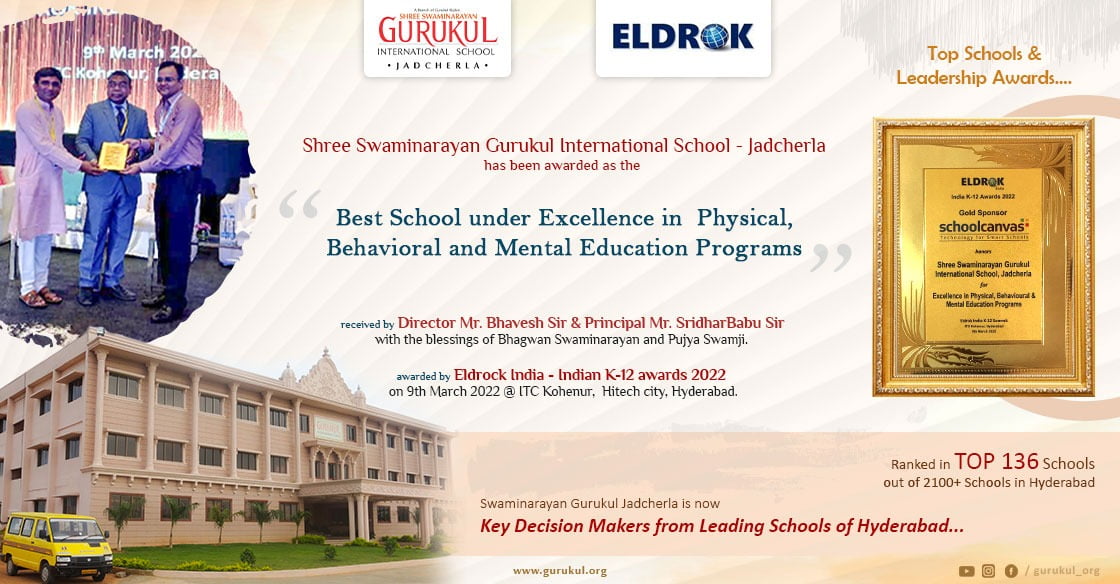 Top Schools & Leadership Awards….
Swaminarayan Gurukul Jadcherla is now Key Decision Makers from Leading Schools of Hyderabad 
Shree Swaminarayan Gurukul International School, Nagarkurnool Rd, Nagasala Vill, Jadcherla, Telangana – 509301, India has been awarded as the  Key Decision Makers from Leading Schools of Hyderabad
(Mo: 91 9010200016 / 7, gurukul.org)
ELDROK the most reputed name in  Indian K-12 segment since last decade. 
Eldrock India Top Schools & International Awards were announced and honored on 9th March 2022 @ ITC KOHENUR,  Hitech city, Hyderabad.
They have shortlisted TOP 136 Schools out of 2100+  Schools.  
On 9-March, of many desrivering Schools of Hyderabad With the blessings of Bhagwan Swaminarayan & Sadguru Mahant Shri Devprasadasji Swamiji, Shree Swaminarayan Gurukul International School, Jadcherla has been Awarded Best School under Excellence in  Physical, Behavioral and Mental Education Programs.  
The school is in the list of Top 6.5% schools in Hyderabad Metropolitan Region. 
 Parameters for the honoring
---
School Infrastructure.

CBSE Curriculum.

Innovative Teaching Pedagogies.

Use of Tech & Tools in developing Life Relevant skills.

Technology adoption levels.

Extra Curricular Activities.

Sports Infra Facilities.

National & International collaborations.
The honor  was received by Director Mr. Bhavesh Sir & Principal Mr. SridharBabu Sir with the blessings of Pujya Swamji's and Akshar Bhagatji.
You must know that, Swaminarayan Gurukul International School Jadcherla is not just a School but a Factory of upcoming Precious Diamonds.
We thank our Gurukul Family, Stakeholders, Students & Our Pedagogues for achieving this…
We feel Proud to say that: "This Award is Dedicated to you all"