Swachh Vidyalaya Award
Achievements & Awards
---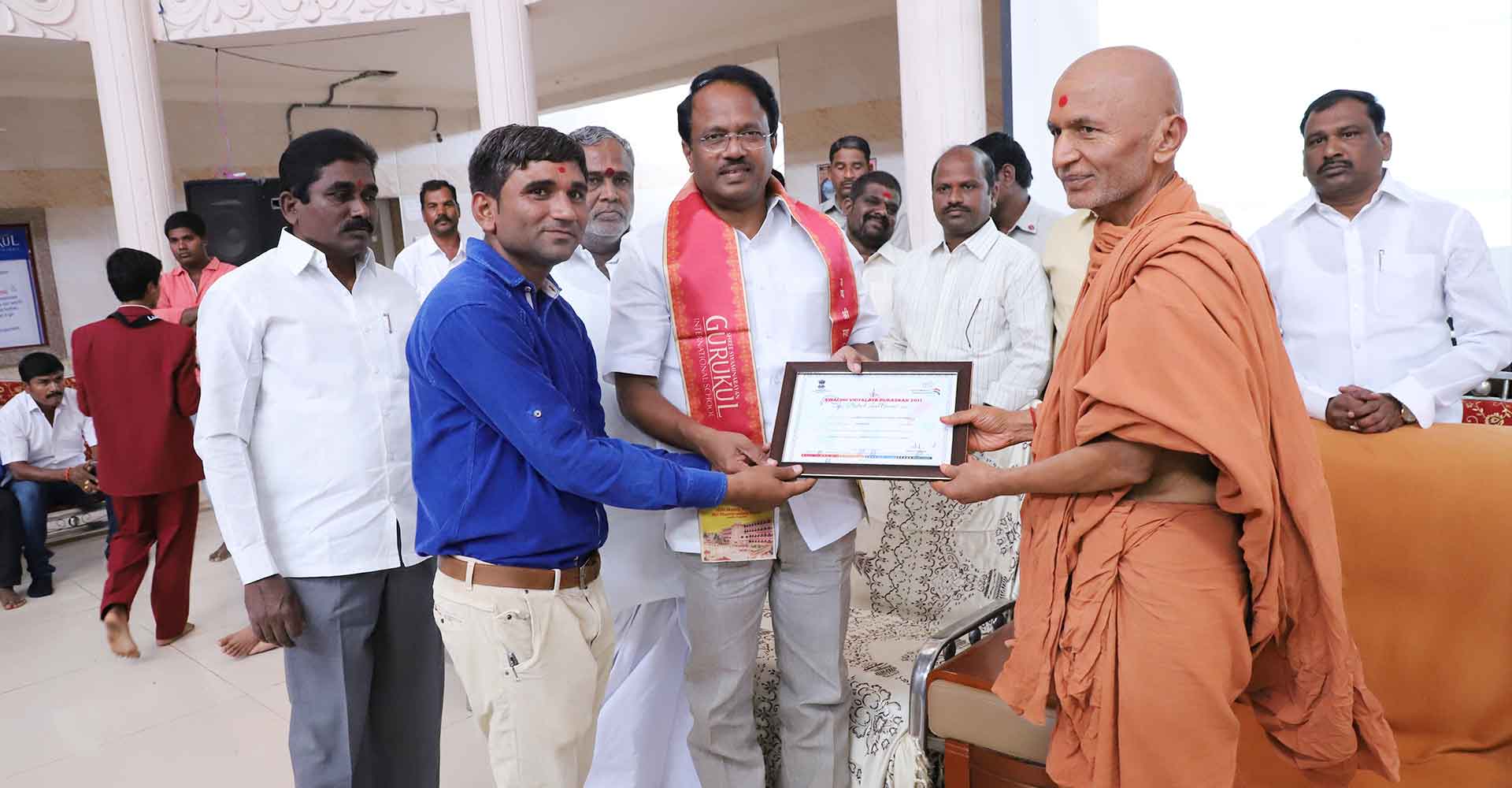 Cleanliness is the next to Godliness. Cleanliness is the next to Godliness.
This Proverb that refers to the importance of cleanliness in the human life and its connection with the spiritual growth and purity of BODY, MIND and SOUL.
We can say that Godliness starts with clean heart and clean heart can be of person with good character, where other living creatures fail to have it
Swachh Bharat does not only mean swachh-clean environment, it means a lot behind the phrase.
Today the phrase is misunderstood. It is seriously to be noted that human beings are only a part of the environment, they are not apart!!
So, as to get the phrase to be a meaningful first human being should be clean in his mind, thought, soul and work. Because other creatures are under the control of human beings in this nature.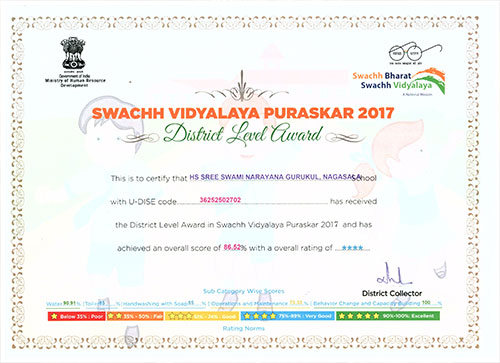 Failure of understanding the word Swachh-Bharath and its aims & vision is on par of failure to understand the mother earth. Today scientists have a huge hue and cry on the issues of Global – warming, ozone depletion, soil erosion etc., but neither the scholars nor public have the sense of feeling to understand.
Our Gurukul Students got an Eco-friendly ideas to be different from others in planting ecofriendly plants rather than horticultural plants.
Eco Friendly plants like Medicinal, Herbal and flowering plants in the Campus.
Medicinal plants are protecting them to be healthy, Herbal plants giving them fresh air to purify their soul and minds, Flowering plants beautifies their efforts in making them happy with Multicolours in seeing God's Beautiful Creation.
We are very glad to announce that National Human Ministry Department honoured our campus with the prestigious award of Swachh Patashala Puraskar of this academic year of 2018-19.
We have a strong motto in inspiring our students with the aspiration of
if not 'I' than 'who',
if not 'now' than 'when',
if not 'today' then which Day
so lets go green altogether irrespective of age, institution, awards and rewards.
We are calling you at the right time for a right cause.
Gurukulites are proud to read holy scriptures to understand what larger part the nature had, have played. We are so proud that our religion taught us to worship every element of nature as a symbol of God. Like we worship snakes, cows, dogs, different trees, Herbs, Shrubs, water, earth, sky, air, fire and referred as 'Panchabutas.'
Today the concept of Swachh Bharat might been on the screen, but it was in the scriptures many years back but we are visual blinds we can see but we can not understand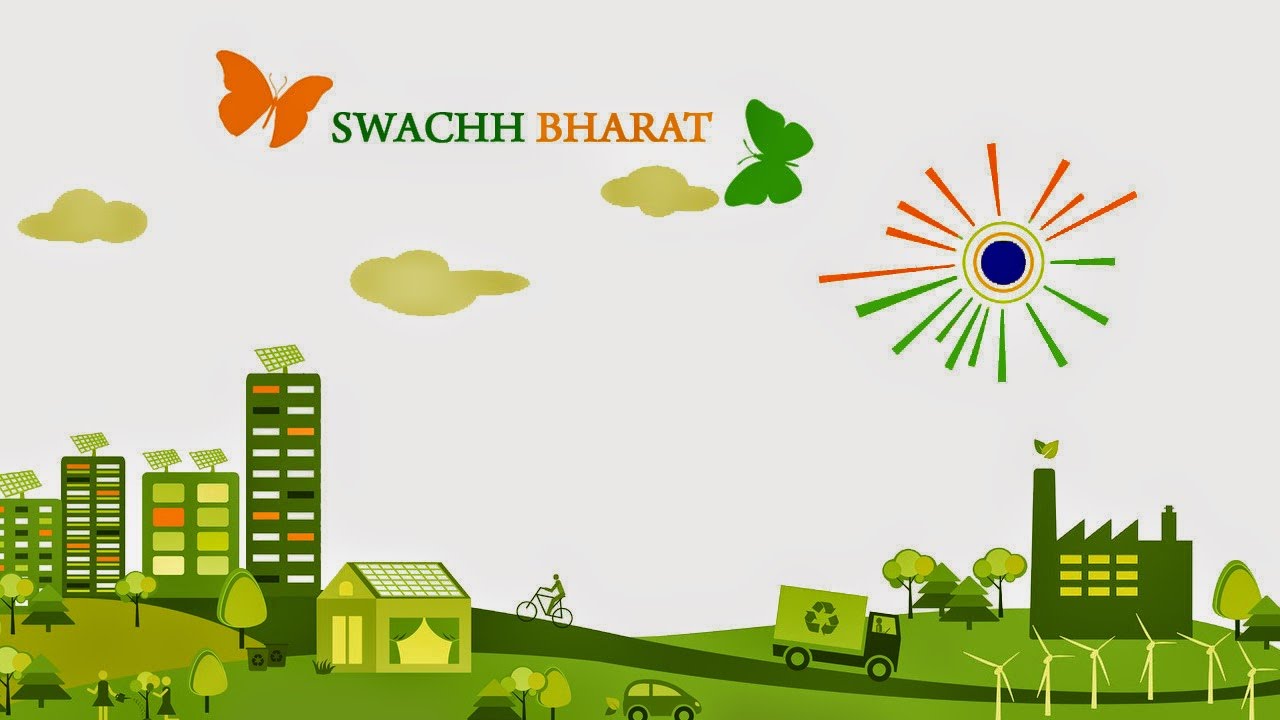 Now – a – days, a clean India campaign called Swachh Bharat Abhiyan has been run by the Indian Prime Minister, Shree Narendra Modi in order to maintain the cleanliness in surroundings and make India a clean India.
Swachh Bharat Abhiyan is a nation-wide campaign in India for the period of

2014-2019

that aims to clean up the streets, roads and infrastructures of India's Cities, Towns and Rural areas.
Mr. Modi called the campaign Satyagrah Se Swachhagrah in reference to Gandhiji's Chamaparan Satyagraha launched on

10th April,1917

.
We dedicate this article to Mahatma Gandhiji on his 150th Birth Anniversary. Further we dare to pen it the printed educational books by government, private, aided, unaided, missioneries, seminars, universities etc., are only colourful and serious on the pages of book with print but unfortunately we fail to print the same serious issues in the minds of the children.
If our statement goes wrong then the phrase Swachh Bharat should be fake or the issues of global-warming, Ozone depletion Etc., are Pseudo phenomenon. Let's all together travel out of mechanical, plastic, robotic, artificial life into the natural human life with smiles to travel miles. Gurukul is on its journey to make our students to live and travel on highways of natural humanistic world. We are striving to achieve this because we are not trying but ultimately creating the

mini world of Vasudaiva Kutumbum in the Gurukuls.
Let our Blog pinch your heart, pain your brain, raise your B.P but let the Truth Come Out.

'Helping hands are better than praying lips.'
It's time to think

what shall we give to our next generation?
Broken world? Diseased environment? Polluted environs? Waterless earth? Fruitless trees? Sweetless fruits? Plastic love? Makeup faces? Hatred generation?

Then what shall we give!!! What can we give!!! Think and Thank, live and let live, love and let loved, forgive and forget. Let's awake, Let's stand for Nation.