The Father of Verendra Maka, Indian Army
Achievements & Awards
---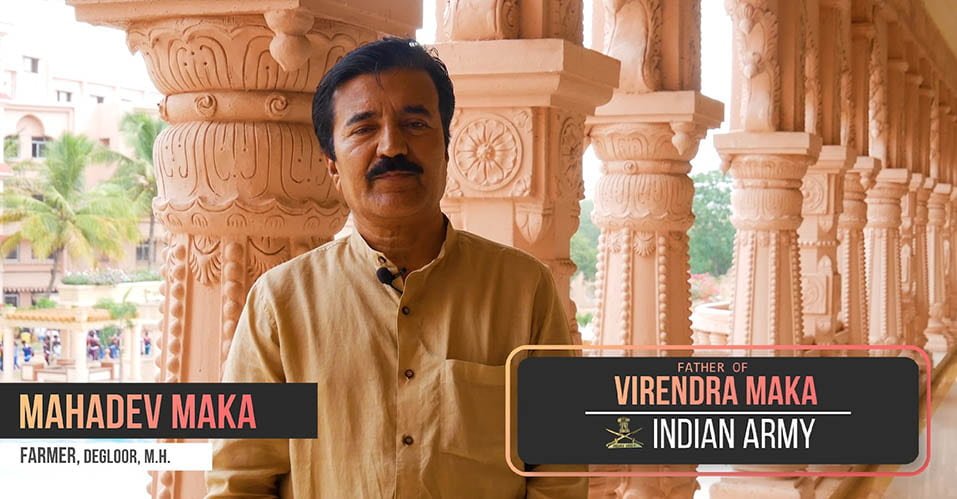 Jai Swaminarayan,
My name is Mahadev Guru Basappa Maka and native of village Manas. My son's name is Virendra Maka. He studied with SSC syllabus in Maharashtra before joining High school in Shree Swaminarayan Gurukul International School in Hyderabad.
One of my neighbors Mr. Sanju Patel told me about Shree Swaminarayan Gurukul as his own child was studying there since a year. I got surprised by the fact that in 21st century, how Gurukul culture may exist! So, I came to Hyderabad with Mr Sanju Patel to check myself how Gurukul system works. I was deeply mesmerized by the way how Gurukul deliver Sanskars and impart moral value education in today's generation. I felt real peace and happiness in mind. Here, I got to know that Sanskars can only be imparted in one's childhood else its quite challenging once a boy crosses his teenage.
My son scored good marks in his 10th board exam and then joined Narayana college in Hyderabad for further coaching to crack IIT exam. He passed IIT exam, however he joined one of the prestigious engineering institution BITS Pilani for his engineering. He did extremely well there in academics, so he joined Dual degree programme and was successfully awarded dual degree during his 5 year stay in BITS Pilani.
Right from his childhood, he was very passionate to join Indian Armed Forces. Hence, he appeared in & passed SSB Exam conducted by UPSC. He successfully cleared interview followed by physical checkup which took almost a week before joining Indian Army. He moved to IMA (Indian Military Academy) Dehradun and after the rigorous training of one and a half-year he became an Indian Army officer.
Surprisingly, he got a call to work as Civil engineer on a very handsome package. I thought like other youngsters he may accept it but as Gurukul Sanskars transformed his life. So, he happily refused as he wanted to serve the nation. This surprised me and then I understood what role a good school can play in one's life which Gurukul did with my boy. As he is my only child, so I thought to refuse about his joining in the Indian Army. Then, I visualized Gurukul and realized that I should permit him as blessings of God and true saints will protect him.
You cannot earn Sanskars even if you have good fortune. You need to learn and practice them which is only possible in Shree Swaminarayan Gurukul Schools and nowhere else.  There a boy excels not only in academics plus he learns Brahmavidya and Sadvidya. He learns how to do pooja and worship god. In Gurukul, Games and Sports are given due importance for overall physical and mental development.
My son learnt basketball in gurukul and was considered as the best Basketball player during his college life. He continues to play basketball in army.
In all this, how can we forget the teachers of Gurukul who is leading the children to new places. The teachers are overwhelming and always wear positive  smile on the face. They give individual attention to each child with love and affection and gradually a child develops his interest towards result-oriented studies. My child Virendra got A1 grade in mathematics in his 10th standard which motivated him to crack engineering.
In other schools, the students feel fear of teachers but in Gurukul the teaching staff is friendly which push the boys to succeed and aim high in the life.
Finally, now I visualize a connection between God and mankind. I used to dream big about other children in my vicinity that my child shall also reach at zenith of his career & life. Now, I feel proud and thank Shree Swaminarayan Gurukul for passing right virtues and life skills.
I pray to Lord Swaminarayan and saints that mission of "Transforming Lives" shall never stop and continue shaping lives of generations in years to come.
God Bless and God Speed.
Jai Swaminarayan