Gurukulite Conquers National Karate Championship With Bronze
Achievements & Awards
---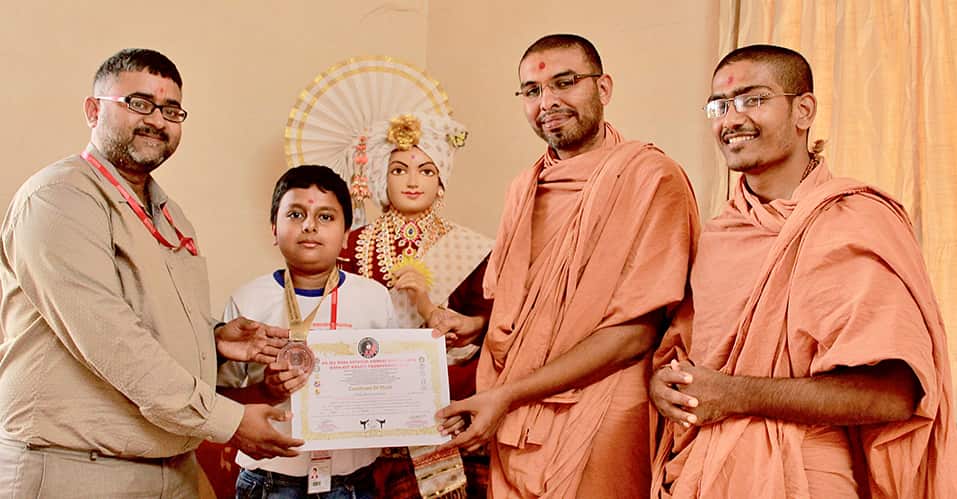 It is said that "Success belongs to those who are willing to work harder than anyone else". People who understand the meaning of this quote are the ones whose road to success is always uphill.  This road is one which we build ourselves. Most individuals look at successful people and contemplate and comment on how easy it is to reach where they are today. What these individuals don't realize is that to attain this level of success, a lot of hard work and sacrifice is put in.
Setting our minds to a particular goal in life and striving to eventually accomplish it, must start at a young age. When children develop a sense of passion for a particular sport and excel in it, this is when they acquire the tag of a 'Sportsman'.
Chaitanya Krishna is a student studying in grade five, in Shree Swaminarayan Gurukul International school Bengalru who followed his dreams from a very tender age and worked hard to attain this dream. He is currently working hard to achieve his dream in karate. At the All India national combat martial arts Wado Ryu karate championship held on the 10th November 2019 in The City of Dreams, Mumbai, he acquired the Bronze Medal.
Chaitanya, achieved laurels with lot of dedication and hard work. His coach Mr. Ashok Raj has always been like a wall of support for him. He has dedicated lots of his time in training Chaitanya to become the champion he is today. Chaitanya made his parents and all his well-wishers very proud, who always wanted to see him stand tall in sports. His parents say that ''Chaitanya always had a burning desire in to achieve his goal, whatever barrier he faced, he would never stop. He believed, believes and will keep on believing that nothing can stop him''.
Shree Swaminarayan Gurukul International School has played a vital role in his achievement, by providing moral support to level up his self-confidence. We, at Gurukul Bengaluru constantly pray for his victory at more such tournaments.