Young Science Enthusiast Awarded And Recognized As One In Thousands…
Achievements & Awards
---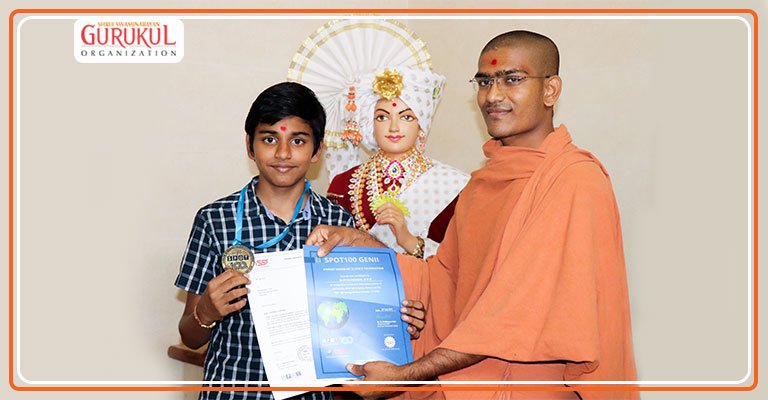 " All our dreams can come true if we have the courage to achieve them "
Though this saying is written down by someone anonymous, this has driven the lives of many successful people all over the globe, may it be young or old.
Here, we have another star Gurukulite, who has seriously raised the bar when it comes to the competitive academic perspective We present to you, A.V.N. Suryavadhani, one of the top 100 young science scholars throughout India.
This young man, of 13 years, wrote the Science Promotion Orient Test (SPOT), conducted by the prestigious Vikram Sarabhai Science Foundation, and has earned the title of one of the "Top 100 Science Talents", pushing the limits and surging past several thousand students across India, thus earning his credit as a "SPOT100".
He has great interest in the affairs of the robotics and space engineering fields, and aspires to be the torchbearer of futuristic space and robotic research in India. He is an outstanding academic and proves himself to be excellent also in the cocurricular aspects such as photography and videography.
"Science is a road with no end. It has no limits and it's possibilities are infinite, and I want to be the one who leads our country in exploring this path, in the near future", he says.
The VSSF SPOT exam is an All-India Competitive Exam which tests contestants on their ability to analyze logically, think creatively, and apply their intelligence productively. It tests their conceptual knowledge of science across all disciplines. All around India, hundreds of thousands of students of various age groups, write this exam on a yearly basis, out of which, only hundred students are recognized for outstanding performances.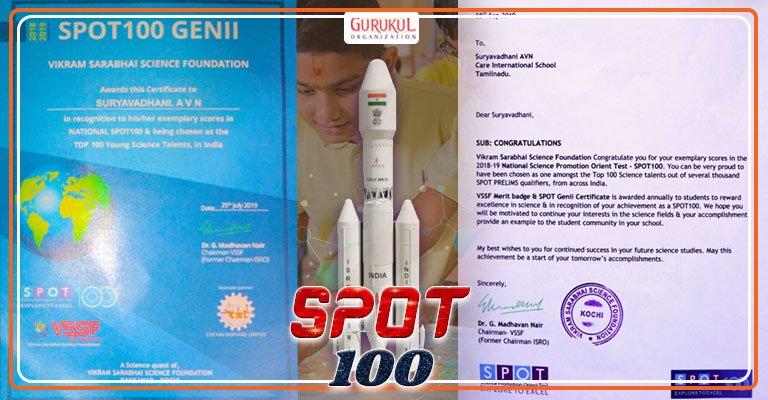 Suryavadhani, who is popularly known as Surya, feels that science is something that is involved in every nook and corner of our daily lives, and that we need to understand it in order to understand ourselves as human beings.
As a reward for the achievement, the VSSF has decided to take him and the rest of the SPOT100 to the one and only spaceport in India, Satish Dhawan Space Centre, in Sriharikota, from where most of India's space exploits have been launched.
The Satish Dhawan Space Centre is of course, the mainstream launching branch of ISRO, and has risen among the ranks to become one of the most advanced space facilities in the world. Surya considers himself to blessed to have the amazing opportunity to visit this wonderland.
We here at Shree Swaminarayan Gurukul Bangalore wish him an extremely bright future and continuously encourage him to go forth in all his endeavors and missions, and makes his mark in the sky.