Go Green, Green Raipur
Social Activities
---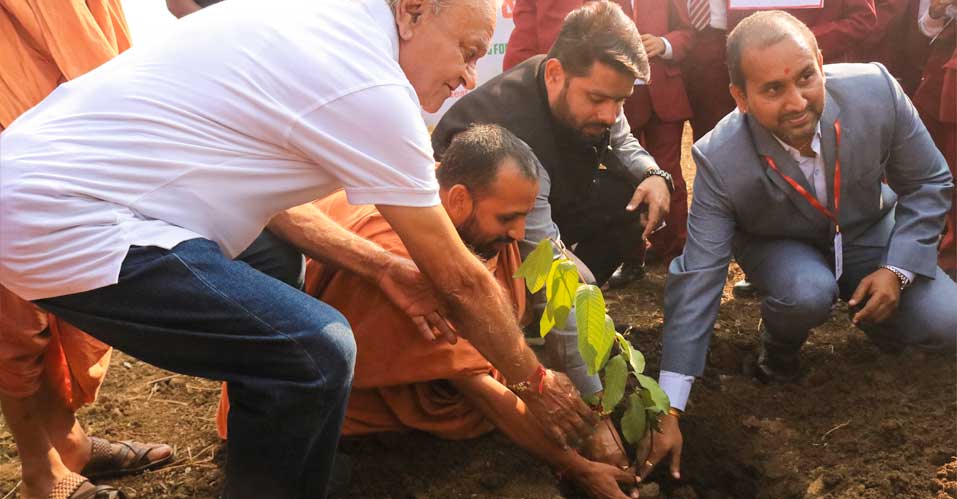 "GO GREEN – GURUKUL GREEN" at Gurukul Raipur
Life is possible on the earth because of water, oxygen, and trees. We cannot and shouldn't ignore these valuable resources as trees are a source of oxygen and source of water for survival on the earth.
If trees or forests are destroyed, we are destroying our lives and the environment from the green earth. Human beings are considered as the most intelligent creature on the earth. So, we should understand our responsibility towards nature and start saving trees, the green gold of earth.
♫ Every day people say,
"What difference can I make,
what deeds can I do,
what actions can I take?"
Well now is the time
for you and me
to find a spot, dig a hole,
and plant a young tree. ♫
The best time to plant a tree was 20 years ago.
The second-best time is now.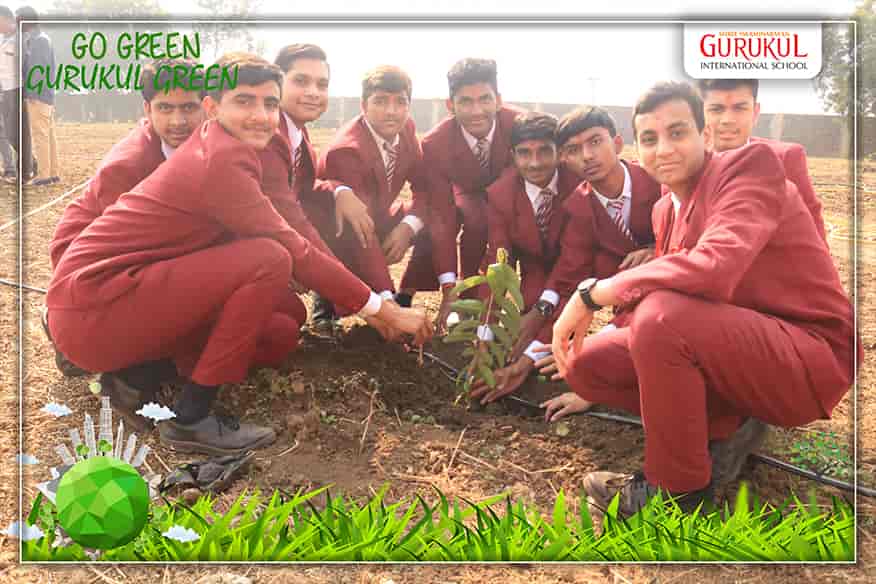 DEFORESTATION FACTS
---
Deforestation is the conversion of forested areas to non-forest land for use such as arable land, pasture, urban use, logged area, or wasteland.
It is estimated that within 100 years there will be no rain forests.
Forests cover 30% of the earth's land.
One and a half acres of forest is cut down every second.
20% of the world's oxygen is produced in the Amazon forest.
25% of cancers fighting organisms are found in the Amazon.
Poverty, overpopulation and unequal land access are the main causes of man- made deforestation.
Half of the world's tropical forests have already been cleared.
A lot of paper and cardboard is used unnecessarily for packing. This means more tree felling.
Reuse paper and plastic bags to discourage deforestation.
The wisdom and education are impractical without their utilization.

The real idea of the education is to provide best help to society and world. Today's society needs fresh air and unpolluted oxygen for breathing. To make the environment a little better The Gurukul Organization has been committed to save the nature by preaching the importance of nature and its importance in human life.
Concerning the same Raipur Branch of Shree Swaminarayan Schools organized an event called Go Green Gurukul Green on 22nd November, 2019 in which more than 150 saplings were planted by the students along with the chief guest Shri. Ashish Kumar Chhabra, MLA Bemetara and other party leaders. Mr. Chhabra is touched and impressed to see the green campus of the school and he also guided and motivated students to plant more plants and protect them.
He proudly said that "Gurukul is the best place where one can get fusion of modern and ancient wisdom with Sanskar. Now a days, we come across a very 'tough competition' among schools who claim for their best education system with all modern technologies. But Shree Swaminarayan Gurukul Schools have been playing a vital role in infusing modern education with Sanskar in their students for decades".
"Plants are essential for every living-thing", the Principal D. Raghunadh said while P.P Muktvallabh Swamiji concluded the speech and said that "Plantation has always been an essential part of the Swaminarayan Gurukul Schools. Trees not only give us oxygen but also provide us medicines, shadow and mental peace.
Trees are equal to the god and are prayed everywhere.
In India it has been a culture of plantation of the trees since the ancient time, therefore when we plant trees, we not only secure the earth's future but also take our cultural heritage a step forward". Gurukulites understand the importance of a tree's branches, leaves, flowers and fruits.
HERE'S HOW TREES MAKE A DIFFERENCE:
Trees improve air quality by producing oxygen and store carbon, offsetting harmful by-products of fossil-fuel burning.
They moderate the effects of sun and wind, and they clean the air by trapping dust, pollen, and other pollutants.
Trees maintain 50% of biodiversity Fauna and flora preservation.
Trees play an important role in reducing emissions and smog in big cities.
Gurukul remains special in providing Vidya, Sadvidya, Brahamvidya education to the students in Swaminarayan Gurukul Schools and these are the main roots of its education system. In Sadvidya students are taught about how they can be helpful for others. Tree plantation is an essential part of Sadvidya as tree plantation helps the society and world.