Spreading Smiles: Shree Swaminarayan Gurukul's Food Drive Success
Social Activities
---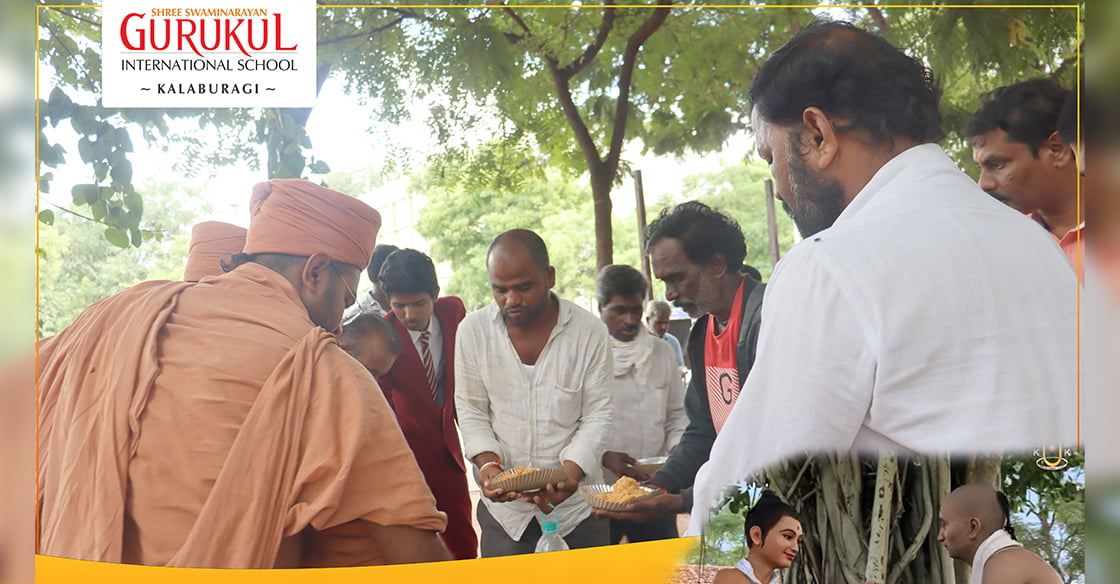 Empowering Communities: The Ganesh Chaturthi Food Distribution Movement
In the heart of our vibrant city Kalaburagi, a welfare movement unfolded during the auspicious occasion of Ganesh Chaturthi, showcasing the spirit of compassion and unity within our community. The Shree Swaminarayan Gurukul, a prominent educational institution, orchestrated a remarkable food distribution drive to serve the needy and underprivileged in three key locations: the Government Hospital, Bus Stand, and Railway Station. With the relentless efforts of enthusiastic students, this movement touched the lives of over 3,000 individuals.
A Ray of Hope at Every Corner
The Shree Swaminarayan Gurukul has long been dedicated to fostering education, moral values, and community service. This food distribution drive on Ganesh Chaturthi was a testament to their commitment to making a positive impact beyond the confines of their institution.
The Venue: A Threefold Approach
1. Government Hospital
The first venue for this charitable endeavour was the Government Hospital. Here, the team aimed to reach out to patients, their families, and hospital staff who often struggle to have a proper meal during their time at the hospital. The volunteers provided nutritious food, bringing hope and sustenance to those in need.
2. Bus Stand
The bus stand was chosen as the second venue, acknowledging the transient nature of the population passing through. Many individuals at the bus stand, including travellers and daily commuters, face uncertainties regarding their next meal. The food distribution drive aimed to provide them with a hearty meal, allowing them to continue their journeys with renewed energy and a sense of care.
3. Railway Station
Lastly, the railway station was chosen as a significant venue due to its bustling nature and the diverse spectrum of people it caters to. From passengers awaiting trains to homeless individuals seeking shelter, the station sees a varied cross-section of society. By distributing food here, the volunteers aimed to reach out to the underprivileged and those struggling to meet their daily sustenance.
The Driving Force: Students Uniting for a Cause
The backbone of this benevolent movement was the students of Shree Swaminarayan Gurukul. Their enthusiastic participation and tireless dedication made this initiative a success. Their involvement showcased not only their commitment to academic pursuits but also their compassionate nature and eagerness to give back to society.
A Day of Compassion: Ganesh Chaturthi
Ganesh Chaturthi was chosen for this noble endeavour. It holds great significance in our culture and traditions, signifying prosperity, good fortune, and the triumph of righteousness. It was the perfect occasion to spread this spirit of prosperity to those in need, embodying the true essence of the festival.
The Shree Swaminarayan Gurukul's food distribution movement during Ganesh Chaturthi was a beautiful amalgamation of compassion, altruism, and unity. It highlighted the potential for positive change when communities come together to serve the less fortunate, leaving a lasting impact on the lives of many. This inspiring initiative serves as a beacon, encouraging us all to contribute towards creating a better and more compassionate world.