Foundation stone ceremony of Shree Swaminarayan Gurukul Mysore
Events
---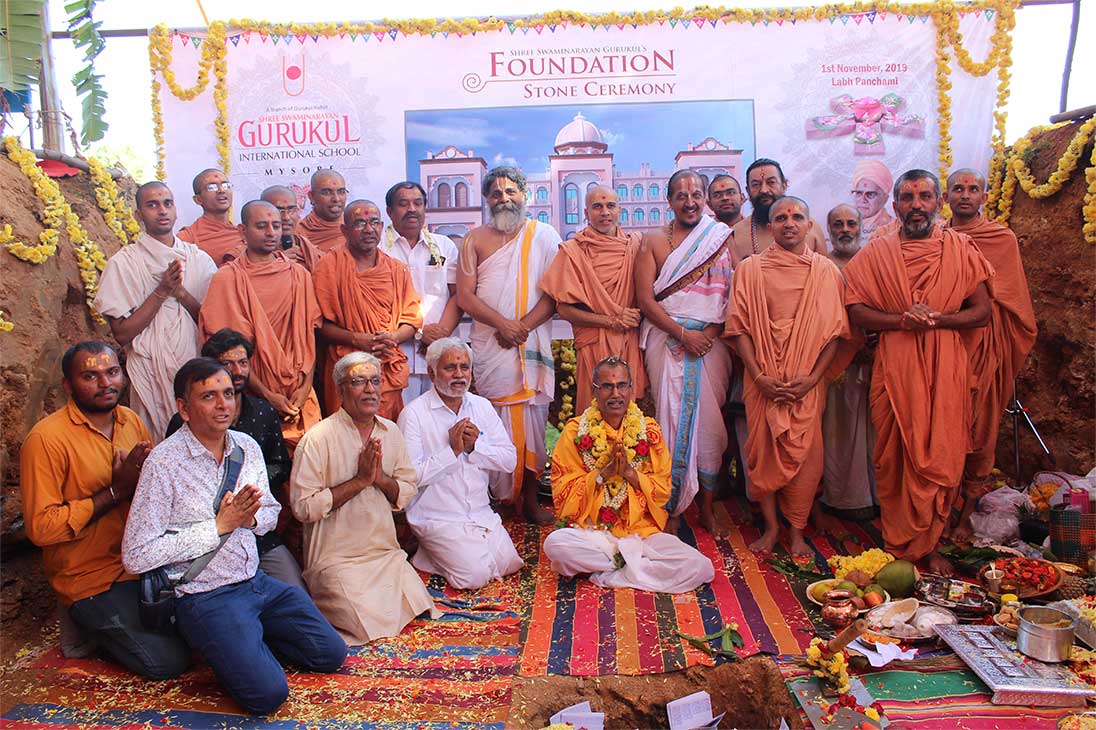 Foundation stone ceremony of Shree Swaminarayan Gurukul Mysore
The journey of a thousand miles begins with a single step, as simple as it sounds nothing is possible without dedication and the right amount of effort. A good start always provides great results like a good seed if nurtured properly, grows into strong tree which constantly stands tall till the end of time.
November 1st is an auspicious day for two main reasons, one, for Labh Panchami, which in the Hindu calendar signifies the last day of Diwali celebration and second, November first in the state of Karnataka is celebrated as Kannada Rajyotsava with immense pride and grandeur. This year also marks the 200th anniversary of the Vachanamrutam, known as the Vachanamrutam Dvisathabdi.
Shree Swaminarayan Gurukul Organization has been imparting students with the knowledge not only of the materialistic world but also about a world beyond science and rich in spirituality. With the blessings of Bhagwan Shree Swaminarayan, Gurumaharaj H.H. Shri Devkrushnadasji Swamiji and inspiration by H.H. Shri Devprasaddasji Swamiji we are honored as our organization has yet again made its mark by laying the foundation for another Gurukul in Mysuru, also referred to as the cultural capital of Karnataka.
This gurukul, which like many of its predecessors aims at transforming the life of all its upcoming students and graduates by helping them accomplish their goals and strengthen their vision.
The land showcases around seventeen acres of lush greenery , on the banks the river Kaveri.
This is indeed the very place where great sages like Vashishta Rishi, Gautam Rishi, Bharadwaj Rishi, and Vishwamitra Rishi undertook the austerities of Tapascharya.
Bhagwan Swaminarayan himself is known to have graced this land with his presence during his seven year-long journey as Nilkanth Varni. He visited the famous temple of Shree Ranganath Bhagwan, prayed at Narsinh Bhagwan's temple and also bathed in the Kaveri river.
The ceremony began with the chant of holy scriptures of the almighty, which progressed to the Abhishekam of Thakorji.
The sanctification was performed Shree Rampriyaji and other pious Brahmins of Melukote. The ceremony was further dignified by the presence of the holy saints, such as Param Pujya Ramanujdasji Swami, Param Pujya Krushnacharandasji Swami and Param Pujya Nityaswaroopdasji Swami, the devotees, and thanks to the blessings of Bhagwan Shree Swaminarayan the ceremony was concluded with the saints and various devotees placing the foundation bricks and by receiving the prasad from the hands of the holy saints.
We pray to Bhagwan Shree Swaminarayan that Shree Swaminarayan Gurukul Mysuru being would rise to astonishing heights and that all the students studying there shall attain their goals and become respectable citizens of society.