Inauguration Ceremony of Shree Swaminarayan Gurukul International School- Secunderabad.
Events
---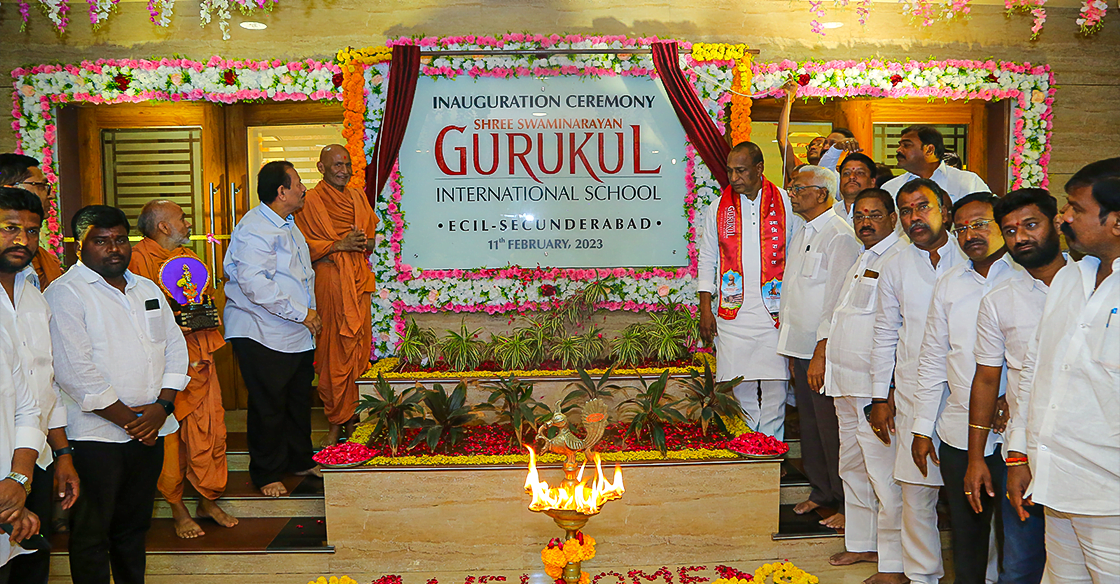 Newly constructed Shree Swaminarayan gurukul, Secunderabad branch was inaugurated on 11th Feb 2023 by the divine hands of Pujya Mahant Swami Shri Devprasaddasji Swamiji and Shri Malla Reddy (labour minister of Telangana state). Tens of revered saints, Shri Venu Gopala Chary(ex- cabinet mister), about 3000 parents/devotees, 1200 children, teachers have graced the occasion.
Below are the excerpts of this grand event:
Traditional Welcome & refreshments
Yoga and Welcome guests on to dais
Grand Inauguration of building in midst of fireworks and music
Speeches of chief guests and poojya Swamijis
Felicitation of land donor and guests
Pitru devo bhava- drama
Cultural performances by students
Demonstration of skills like Painting, Karate, Pyramids etc
Annual update and word of gratitude by Principal sir
Traditional Welcome
Team of teachers have started receiving the parents and children at the main gate in a traditional way by Appling tilak and giving a flower. This is the beginning of Gurukul mark for the step-in guest.
All these parents, children, devotees have guided to prasadam(snacks) counter for delicious snacks, before they seated at event. All the guest have occupied as per the designated seating arrangements.
Yoga and Welcome guests on to dais
It's all started with Yoga performance of students, who were decked in white kurta pajamas.
They had demonstrated Surya namaskar, few Yoga asanas in the guidance of Brahmavidya coordinator. Chanting of Shanti Mantra has ended the Yoga Performance.
Poojya Devprasaddasji Swamiji, Shri Malla Reddy- minister of labour, Shri Venugopala Chary – Ex- cabinet minister, and Shri Rama Rao sir were welcomed on to the stage in midst of applause by all parents and children. All of them were received on to stage with garlands
Here comes a traditional welcome dance performed by highly charged students of grade 5th and 6th students. While parents have applauded the energetic performance.
Grand Inauguration of Building
The building has formally inaugurated by pious hands of Pujya Mahant Swami Shri Devprasaddasji Swamiji, Shri Malla Reddy garu, Shri Venugopala Chary among with all revered saints.
Students of 7th and 8th classes made this moment memorable by chanting Bhagwan Swaminarayan name and also Vedic shlokas. The dance performance as suddenly brought pious feeling in every audience heart.
Dazzling fireworks in the sky had brought cheer to the entire campus!
Performance of Little champs
Cute little boys of LKG and UKG had a first chance to please the audience with their innocent dance moves for Gummy bear and merawala songs.
Followed by them Class 1 students had brought lord Sri Krishna on to stage by dancing to the tunes of Srikrishna Govinda Hare Murare and Krishna Super Star.
All the audience and chief guests have encouraged these 200 + little dancers with a big round of claps.
Speeches of Chief Guests and Swamijis
While addressing the audience, Shri Malla Reddy garu has applauded the services and education methodology of Gurukul school. He has requested Poojya Swamiji to upgrade the campus to Graduation level. He honestly told that Gurukul is different from other corporate schools and this campus is gift to the people of Secunderabad. He, being the Chairman of big educational group and very rare to appreciate other institutes.
As usual his wit and sincerity has well applauded by audience.
Shri Venugopala Chary garu has praised the Gurukul education which comprises of Vidya, Sadvidya and Brahmavidya. He has reemphasized the importance of schools like Gurukul in the country and had promised that state Govt will extend all the possible support for Gurukul to grow.
At this occasion, Pujya Devprasaddasji Swamiji has spoken simple and sweet. He has told that Gurukul is determined to inculcate good virtues in children, that helps a lot in excelling academics. He has advised all parents to create similar environment at homes too.
Felicitation to Land Donor and Chief Guests
This campus has started with the noble gesture of Shri Rama Rao garu, who has donated 5 acres of land to Gurukul. Swamiji has praised this noble act and honoured with Bhagwan Swaminarayan memento, shawl and blessings. Swamiji have acknowledged the coordination work done by Shri Vinod sir.
All the guests on the dais have also received mementos and blessings from pujya Swamiji.
Pitru Devo Bhava – Drama
Emotional performance of trio of this drama, Harshavardan(8th student), Laxman sir and Srinivasulu sir has brought tears in most of audience.
With a simple drama, parents have understood how important it to be away from bad habits like alcohol, smoking etc.
Swamiji had blessed these actors.
Cultural Programs
Na kaato muze duktha hi – dance performance of grade 3 students for this song has reiterated the importance of trees for a better living.
As usual India wala dance by 5th grade is joyful and energetic.
God Shiva has appeared in front of audience along with his devotes by performing Shiva Shiva shankara dance. This wonderful classical dance has received standing ovation by audience.
This 6th grade boys were thrilled with this applause.
Boys of 7th Grade has literally brought the Indian army on to the stage by performing to O Sainika dance. Their military costume, energy and warfare drama has left everlasting impression about great sacrifices of Indian army on audience.
Here comes a roaring dance performance for naatu naatu song by grade 6th students.
Sports dance and Martial arts
The high energy of these young boys was exhibited by means of sports dance. Yes, sports dance! A dance comprises of various sports demonstration, a navel idea.
Gurukulites are also known for the self-defence and same was demonstrated with various feats of Karate and Taekwondo.
The splendid team effort had built a Pyramids. All kudos to boys who performed in the able guidance of PETs.
Few beautiful paintings like Bhagwan Swaminarayan, lord Krishna, Shastriji Maharaj drawn by students were presented to Swamiji.
Annual report and conclusion
Principal sir has apprised the parents with the help of video presentation about various activities conducted by school for the year 2022-23. This has brought great amount of conviction to all parents that Gurukul school is meant for all round a development, true to its promise.
Many parents add their wards had a good fortune to receive blessings of swamijis.
At the end all the staff had received the blessings of Poojya Devprasaddasji Swamiji.
That brings an end to the 3 hours long celebration in the midst of joy and learning.