Silver Jubilee Celebration
Events
---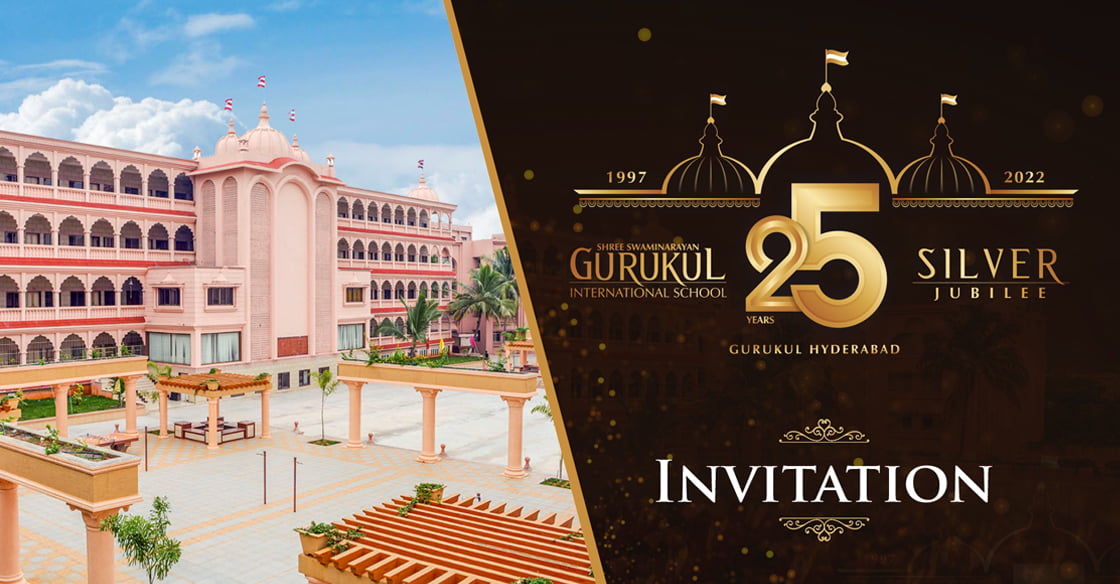 Celebrating 25 Years of Excellence
in
Vidya, Sadvidya & Brahmavidy
a
Shree Swaminarayan Gurukul Hyderabad is a non-profit socio-spiritual organization which has been running for the educational & cultural upliftment of the world since 1997. Shree Swaminarayan Gurukul Hyderabad has garnered a strong repertoire to become one of the best schools in India for the last 25 Years. 
Shree Swaminarayan Gurukul has been leading good to great living in the society by transforming the lives of students through Vidya, Sadvidya & Brahmavidya. Shree Swaminarayan Gurukul's motto is not to make Profit, but to serve the society at large, and develop cultured dedicated citizens for Nation.
Shree Swaminarayan Gurukul's strong value system is the only one-stop-solution for 21st century concerns of children, parents & society for the Framework is designed on the proven principles of ancient & transformational Gurukul Value System. We strive the best practices through various tools and techniques to inculcate these values into the children adapting to present social and cultural changes.
Since 1997 to 2022, 
Shree Swaminarayan Gurukul Hyderabad has produced value-shaped responsible citizens who are serving the society with Morality & Spirituality. Our Gurukul Alumnus are working widely across the globe in the various dimensions of the professions & businesses.
Also, Gurukul Alumnus are creating awareness for the importance of the Values & Morality & spreading Gurukul Values & Spirituality they learnt in Gurukul. Nowadays, Gurukul Alumnus are inspiring & leading the world towards a happy & spiritual life which is the solution to the problems of the 21st century.
We would like to invite you to the historic occasion of Silver Jubilee Celebration of Shree Swaminarayan Gurukul Hyderabad on 2nd October, 2022 @ 5:00 PM. We request you to mark this historic occasion with your presence in which 50+ Swamijis, Dignitaries & 10000+ Alumnus & Parents are going to take part from all over the world.
Be a part of this historic event !
Silver Jubilee Initiatives
---
25 Cr+ Mantrajaap

Youth Seminars

Padharamani

Alumni Satsangs
Silver Jubilee Events – 2nd October, 2022
---
25 Kundi Yagna
Re-Inauguration of Kamaldham

In the presence of Gurumaharaj, Mahant Swami & 50+ Saints

@ 10 AM

Blood Donation Camp
Gurukul Cricket Stadium Inauguration

International sized day-night cricket ground for Gurukulites & Youngsters

Alumni Get Together

Let's rejoice the gurukul memories

Historic Book Publishment

Shikshapatri – Telugu

Ghanshyam Charitra – Telugu

Vachanamrutam Chintan – English

Cultural Program

Heart-breaking performances by Gurukulites

25 Year of Glorious Journey
Blessings of Saints

Gurumaharaj & Mahant Swamiji

Award Ceremony
Honor To Donors

Blessings to the donors & volunteers

Maha Prasadam

Don't miss famous Gurukul Laddu