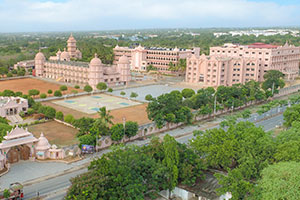 Hyderabad
Chevella Road, R. R. District, Moinabad Mandal, Hyderabad, Telangana - 500075, India
Download the Academic Calendar 2022-23
Educational Care
Shree Swaminarayan Gurukul International School
 is accredited to "Commission on International and Trans-Regional Accreditation" (CITA), an Alliance of the premier American accrediting and evaluation organization. It presently has over 30,000 associated Schools from all over the world. At Gurukul, all the infrastructural development and knowledge-based facilities that we provide are according to the standards of CITA. With its uniqueness in providing Ancient Wisdom integrated with Modern technology, SGIS has set an example to be one of the 
International schools in Hyderabad
. Shree Swaminarayan Gurukul International School is a school with a hostel in Hyderabad that has already won many prestigious awards in the field of academics and other activities. Talking about the curriculum followed by Shree Swaminarayan Gurukul International School, we have:
CBSE Std 5th to 10th with Hostel facilities
CBSE Std 1st to 10th with Day Boarding facilities
CBSE Std 11th & 12th IIT, JEE, NEET - (Science & Commerce) with Hostel facilities

Shree Swaminarayan Gurukul International School
 provides some of the finest world-class facilities for the overall academic development of the students. Listed below are some important highlights of the facilities that students currently benefit from:
Teacher-Student Learning Method
At 
Shree Swaminarayan Gurukul International School
 the students learn concepts from the teachers with a ratio 2:1 i.e. for every two students learning a subject one teacher is appointed to guide & help them grow in a comfortable environment.

Project Work
Just like other CBSE schools in Hyderabad, before any project work given to students, a teacher first analyzes the current performance of the student and identify the areas where a particular student needs improvement. The project work allotted to the students is based on their area of required improvement to reduce burden. Instead, it is a path to excel & grow in weaker areas of the academics. Substantially, due to this unique overall lifecycle of project allocation, the students are able to excel in every area of academics.
---

Teacher-Student Relation
The teacher-student relationship is more of a friendly relation which works like a backbone for the development of the student. This friendly relation between students and teachers has helped to get the best results consistently over the years making as one of the top 10 CBSE schools in Hyderabad.
---
Support for students
Shree Swaminarayan Gurukul International School
 is recognized as one of the top CBSE schools in Hyderabad due to its remarkable support system specially designed for the students. The teachers here play a very crucial role in giving constant support for solving particular subject doubts, practical-based knowledge sharing, 1-1 teacher-student communication to remove all the fear and hesitations of asking questions or improving in the subjects.

Educational Tours
It is said "Children have to be educated, but they have also to be left to educate themselves." – Ernest Dimnet
Shree Swaminarayan Gurukul International Schools in Hyderabad
, a well-recognized residential school in Hyderabad and also one of the reputed boarding schools in Hyderabad for its education system & discipline believes strongly that all the learning cannot be taught in classrooms. There should be a gap for the students to explore, practically experience the surroundings. From the above quote, we are inspired to organize educational tours locally and international tours as well. This immensely gives exposure to the world that is full of learning and explorations. When they see things by themselves, analyze it, their questioning to the teachers or mentors will help them to grow substantially. When they acknowledge themselves growing the results are always fruitful for any parents and even for the school. These initiatives have helped the students of the Gurukul School to grow in 360 degree direction and 
Shree Swaminarayan Gurukul International School
 feels proud to be placed as one of the top schools in Hyderabad.
Gurukul Discipline
Keeping in mind the overall development of the students and their educational interest, all the students are divided into 4 Houses:
Samveda
Yajurveda
Atharvaveda
Rigveda
gStatus
This is the online scoring system for overall development of each student at Gurukul, in the fields of academics, co-curricular activities and beyond. Parents can easily access the overall progress of their child using this system.
Recent Blogs
Supreme Godhead Bhagwan Shree Swaminarayan has commanded in holy scripture Shikshapatri stating that:  सर्वैरपि यथाशक्ति भाव्यं दीनेषु वत्सलैः…Continue Reading

>

The National Science Olympiad  (NSO )  is a science  competition for students of classes 1 to 12. It is organized …Continue Reading

>

1st Annual Day and Sports Day at Shree Swaminarayan Gurukul with the divine presence of Pujya Bade Swami Shri Devprasaaddasji…Continue Reading

>