COVID19 – Help the needy, Help the mankind | Swaminarayan Gurukul
Social Activities
---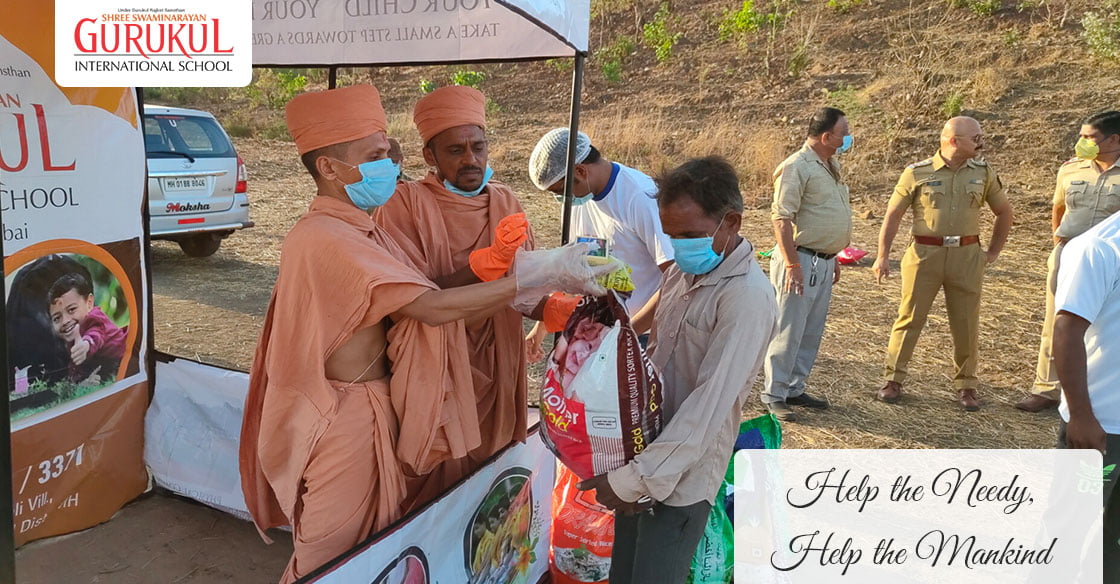 Like Lord Shri Swaminarayan's disposition to assist in times of crisis, Gurudev Shastriji Maharaj Shri Dharmajivandasji Swami was kind too. They used to help the poor people in their sufferings by serving them.

Following this, Param Pujya Guruvarya Mahant Swami Shri Devkrishnadasji Swami is extending his service today. With the blessings of Param Pujya Guruvarya Mahant Swami Shri Devkrishnadasji Swami and under the guidance of Pujya Shri Devprasaddasji Swami, Mumbai Shri Swaminarayan Gurukul International School prepared 700 Kits with 18 variants of survival Items to help the poor and needy people. Saints and youths prepared the kits by packing Wheat, Rice, Sugar, Tuvardal, Dal, Mung, Oil, and spices like Chilli, Turmeric, Coriander, etc.…
Coronavirus, an infectious disease has led to a communication block. Due to the pandemic, many have lost their jobs and this would mean income losses for workers. This will transform into a fall in the consumption of goods and services impacting the businesses. Both Government and social institutions have been helping the poor and needy people. The Swaminarayan Gurukul Foundation, branch Navi-Mumbai, Chowk has provided the essentials kit including 18 items useful for livelihood like Wheat, Rice, Sugar, Matchboxes, Toothpaste, oil, etc. This kit was made and sanitized with the help of the people of Kandroli. This kit was distributed to remote areas of Irsalgad, Borgaon, Kandroligaon, Asre, Vaveghar, and Kalote. The kit was distributed by Mr. Vishwajeet Kaingade, Assistant Police Inspector Mr. Sanjay Bangar and Mr. Ashok Patel. Masks and cloth bags were given along with the kit. Social distancing was maintained during the distribution. 
The above needful deed was appreciated by the Tehsildar Mr. Iresh Chappalwar.