Swaminarayan Gurukul School's Philanthropic Endeavours in Secunderabad: Welfare Movements and Social Service
Social Activities
---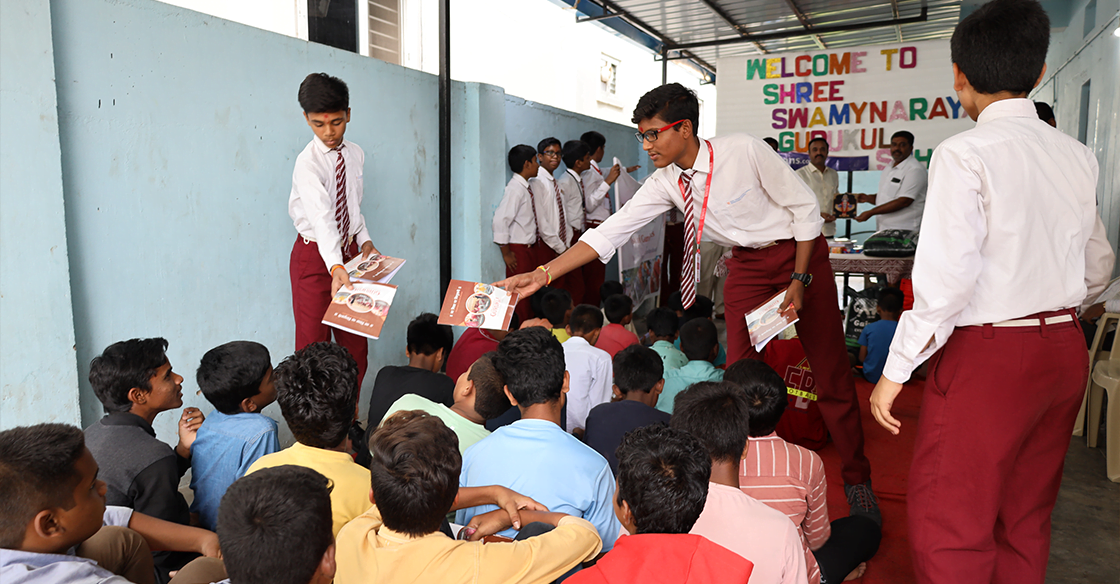 Introduction
In the pursuit of knowledge and holistic education, the students of Shree Swaminarayan Gurukul School in Secunderabad embarked on a remarkable journey of compassion and service. As part of their Sadvidya/Brahmavidya learning, the ninth-grade students organized a heartwarming visit to a local boy's orphanage. This selfless act of giving back to society exemplifies the essence of the school's values, fostering empathy, and inculcating a sense of responsibility towards the less fortunate.
Spreading Smiles: A Philanthropic Endeavor
The students meticulously planned and managed this charitable visit, demonstrating their leadership skills and a strong sense of social responsibility. The school generously donated rice bags, notebooks, toiletries, and other necessary items to the boys living in the orphanage, making a significant impact on their lives.
Gratitude and Joy
The boy's orphanage was overwhelmed with gratitude for the support received from the Shree Swaminarayan Gurukul School. The children's faces lit up with excitement as they received the thoughtful gifts, and they wholeheartedly expressed their appreciation towards the students and teachers.
Learning Through Actions
Beyond the act of giving, this visit provided the students with invaluable life lessons. It was an opportunity for them to understand the importance of social service and recognize the impact they can make through even the smallest gestures. Witnessing the joy they brought to the lives of the less fortunate left a profound impact on their young minds.
Acknowledgement and Support
The local corporators, Mr Venkat Reddy and Bhaskar Goud, commended the students for their philanthropic endeavours. They acknowledged the significance of such initiatives in building a better society and assured their support for future endeavours.
A Reminder of Values
During the visit, the Director of the school presented photographs of Bhagwan Swaminarayan to the leaders of the colony and the orphan boys. These images serve as a constant reminder of the school's commitment to its philosophy and values, inspiring both the children and the community.
A Fulfilling Experience
The students returned to Shree Swaminarayan Gurukul School with a profound sense of satisfaction and fulfilment. They understood that taking action and actively participating in welfare movements is far more impactful than mere theoretical discussions about social issues.
Fostering Compassion and Empathy
The school firmly believes in nurturing qualities of compassion, empathy, and selflessness in its students. By organizing such visits and encouraging community service activities, they hope to instil a deep-rooted desire to contribute positively to society.
Conclusion
The visit to the boy's orphanage by the students of Shree Swaminarayan Gurukul School, Secunderabad, is a testament to the power of action and its ability to transform lives. It exemplifies the true spirit of humanity and showcases the positive influence young minds can have on society.