National Peace Citizen Award 2019 by UPF International
Achievements & Awards
---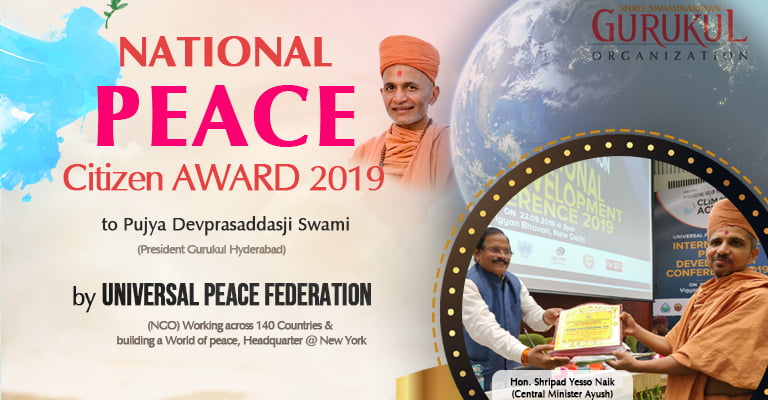 Gurukul Family Members are Highly Privileged to inform that UPF International Embassies Relation Office of New York-USA has Announced NATIONAL PEACE CITIZEN AWARD – 2019 to HH Sadguru Shri DEVPRASAD DASJI SWAMI for Outstanding service towards Promoting Peace & Humanity in Convening Outstanding Professionals with the Value-Based Education through Prestigious Educational Institutes of Shree Swaminarayan Gurukul International Schools through Vidya(Modern Education), Sadvidya(Traditional Education) & Brahmavidya(Spiritual Education) Since its Establishment.
Each Year on September 21, the United Nations Invites all Nations & People to Honour a Cessation of Hostilities & Commemorate the International Day of Peace through Education & Public Awareness on Issues related to Peace.
In the Quest for Peace, the Universal Peace Federation & its Ambassadors for Peace around the World Organize Commemorations of the International Day of Peace Each Year.
UPF – The Universal Peace Federation is a Global Network of Individuals & Organizations dedicated to building a World of peace in which everyone can live in Freedom, Harmony, Cooperation & Prosperity.
Peace is not simply the absence of War or a term that applies only to the relationships among Nations. " Peace is an essential quality that should characterize all Relationships ".
UPF advocates renewal of the United Nations, including a proposal that the UN create an interreligious council within its structures. UPF implements its program through a global network of Ambassadors for Peace.
UPF offers relief & humanitarian programs, service-learning projects, character education & sports programs with a special focus on personal leadership and Peace-making skills.
Universal Peace Federation is an NGO in General Consultative Status with the Economic & Social Council of the United Nations.
UPF conferences convene Professionals & Stakeholders from a Wide Range of Sectors – Government, Religion, Academia, Civil Society, the Media, the Arts, etc. – Encouraging Interdisciplinary & Multi-Sectoral Dialogue aimed at the Search for Solutions to the World's Critical Problems. "UPF conferences underscore the importance of Spiritual Values, Ethical Principles, Teamwork, Responsible Leadership & Good Governance".