It's really a great boon to spend every single day at Shree Swaminarayan Gurukul residential campus.
Since we care for the students at our Gurukul, we strictly do not permit junk food, non-veg food, unwanted gadgets, offensive or prohibited things into their life. We strictly prohibit such offensive things from our students' minds and life.
We highly believe in giving them what is best for their life and not what they expect best from us! Also, we never ever compromise on the best quality for our students. Here at Gurukul, we serve them Satvik food cooked on our premises with great care and hygiene. The students are served only milk, therefore no tea or coffee is served. We serve them satvik food, fruits, healthy snacks-no artificial snacks that aren't good for the students' health.

Residences
Dormitory
A Student is provided with personal cupboards, a bed, a chair and a footwear rack. All the dormitories are facilitated with a speaker and microphone, hence connecting all the rooms, directly to the Residence Office.
Mineral Water Plant
Drinking water matters much in a child's health. SGIS is set with a Mineral Water Plant, that refines the drinking water, throughout the campus. With this, water coolers are also kept to provide chilled water to Students.
Solar Heater
A child needs water in different temperatures in various seasons for bathing. Therefore, Gurukul provides separate pipelines, coming from around 35 Solar Heater Collectors, for hot water.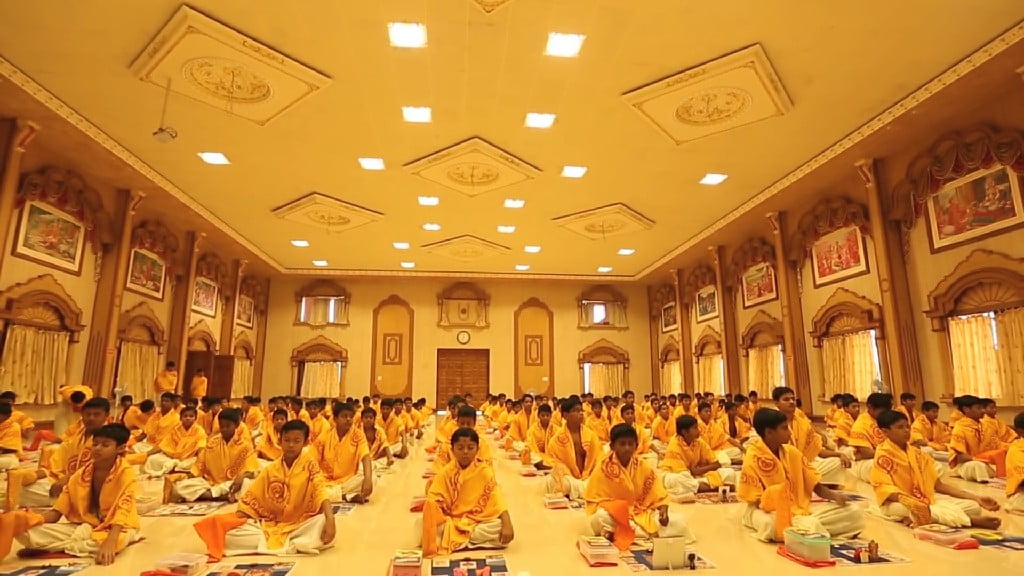 Spirituality is the guideline to the life. One of the major wings of Gurukul is Ethics & Spirituality.
Pooja
Every morning at 05:30 AM, Students come to prayer hall for pooja. It includes, chanting of Swaminarayan Mahamantra, Recitation of Devotional Songs, etc. One can feel Paradise at Gurukul during this hour.
Gurukul often referred as 'Sanskardhaam'.
Value Meetings
1. All the holy saints conduct meeting every evening with a focus to strengthen values.
2. Followed by the devotional bhajans
3.Mainly missing in today's India which has a rich diversifed culture & history.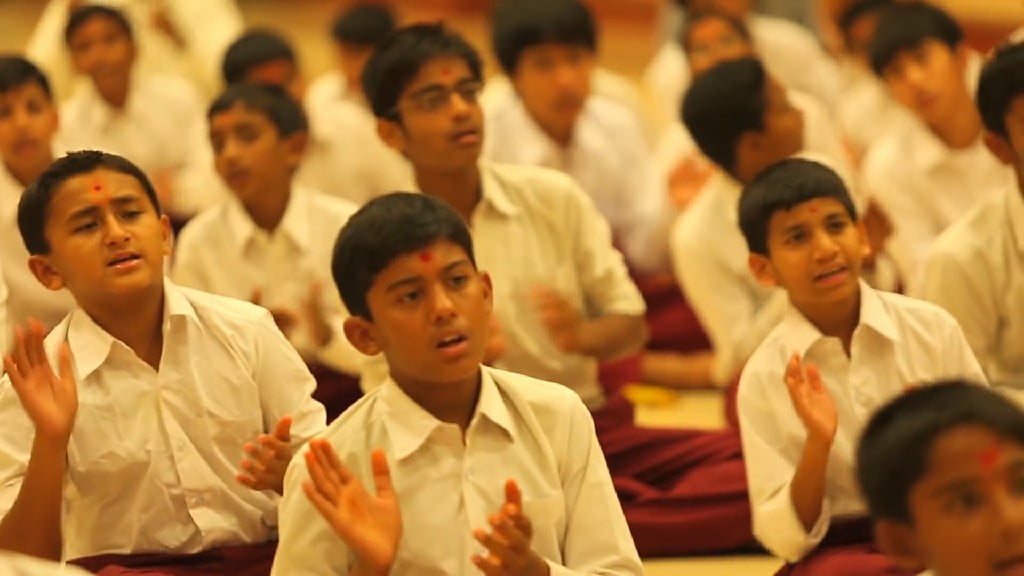 Religious Session
This is a special half an hour session thrice in a week. In this Session, Swamijis teach scriptures, devotional songs, recitations and moral values.
House Activities is part of a student's regular day. Half an hour in the morning is devoted to these house activities. We have determined four different activities, respective to each house for every 3 days and then after Houses are cycled.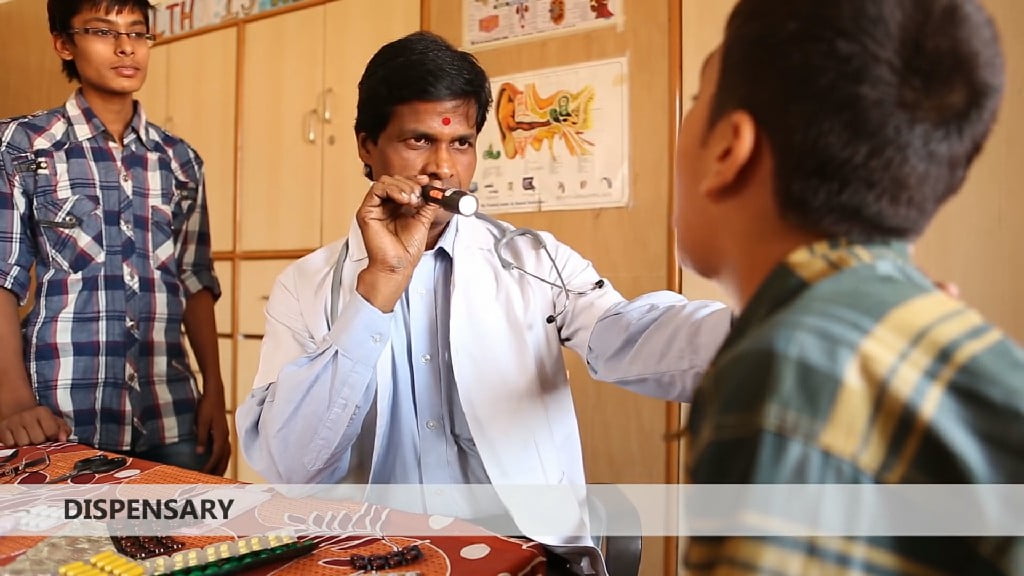 Health & Safety
Prevention is better than Cure
Health Care is the major responsibility of Shree Swaminarayan Gurukul, Hyderabad. The pollution free spacious location, a self managed Gaushala (Cow Shed) and Vishwambharam gives the complete purity of health.
Nevertheless, it has well serving dispensary with First Aid and necessary medicines. We have appointed a Doctor who visits Gurukul Daily and look after their health. In addition to this it is associated to a Hospital just 5 min away from Gurukul providing medical services for 24 Hours and also associated to more than 10 Specialized Hospitals.
Besides, Fire Extinguishers are distantly placed for the fire safety and leaders and staff members are trained in handling such situation.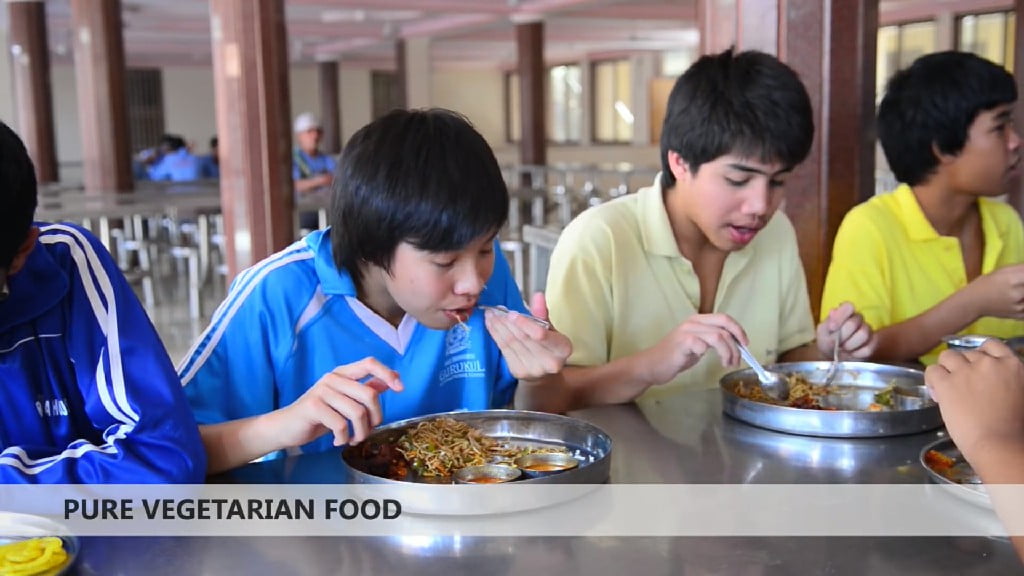 Vishwambharam
As is the Food so is the Mind.
Vishwambharam is the purest place for dining. All the chefs are Brahmins and are specialized in cooking foods of all kinds. Vishwambharam feeds variety of pure vegetarian food made up of pure ghee, oil and fresh vegetables. It serves food of both North Indian and South Indian tastes with all the delicious items like Dhosa, Pani Pooree, Frankie, Manchoorian, Noodles, Idly, Upma, Pulao, and many more.
Grocery Storage
Vishwambharam maintains a Cold Storage to serve fresh vegetables and fruit to the students.
Gurukul Bakery
Vishwambharam has a self maintained bakery that provides all the bakery dishes like Pizza, Burger, Dabeli, Sandwich, Pau Bhajee, etc.
Gaushala
Shree Swaminarayan Gurukul Gaushala, Hyderabad has more than 125 cows and all the milk items and sweets are freshly served from there.
Vegetation
We have fields for different vegetables and fruits. And the vegetables used here are mostly from the farm.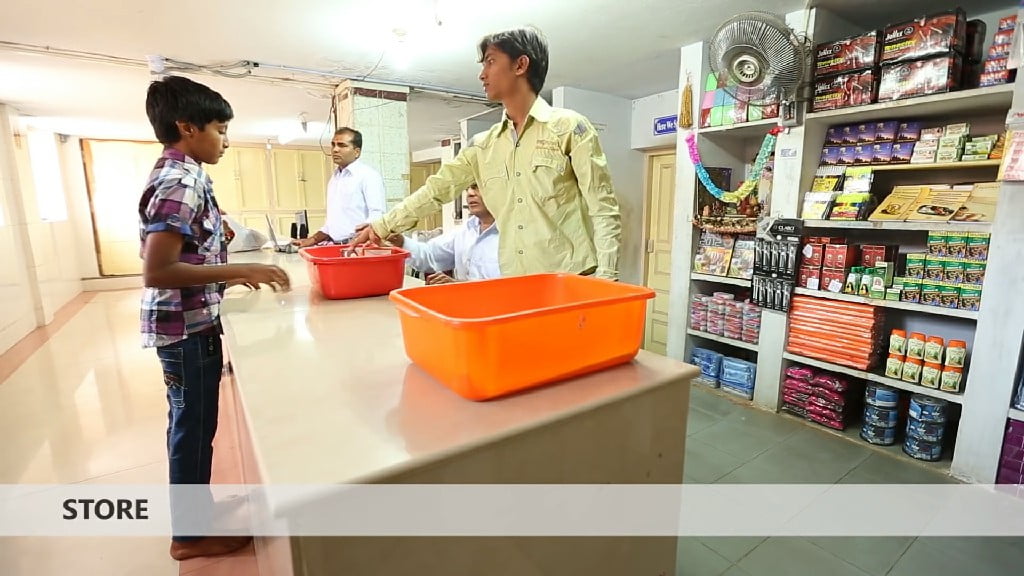 Services
Vidyarthi Vastu Bhandar
Shree Swaminarayan Gurukul Vidyarthi Vastu Bhandar, the warehouse is fully stocked with all the necessary stationeries like pen, pencil, notebooks, textbooks, toiletries, dresses eatables like biscuits, chocolates, fruity, appy, dry fruits etc. With this a fully updated student's account pocket money, is also maintained.
Student's Communication Facility
Everyone is eager to hear the voice of their near and dear ones. Our children should also get to hear their parents or relatives.
Local Students
We organized Parent's Visits for the Students who are local and districts around twice in a month for an hour, where in they meet, eat and greet each other.
Non-Local Students
To the student who comes from different states and country, we offer them to call Home twice a month.
Tailor Services
Shree Swaminarayan Gurukul has prearranged group of tailors who takes all the measurements and make all the dresses here itself. Besides, every wear and tear to any dress or personal cloth is stitched.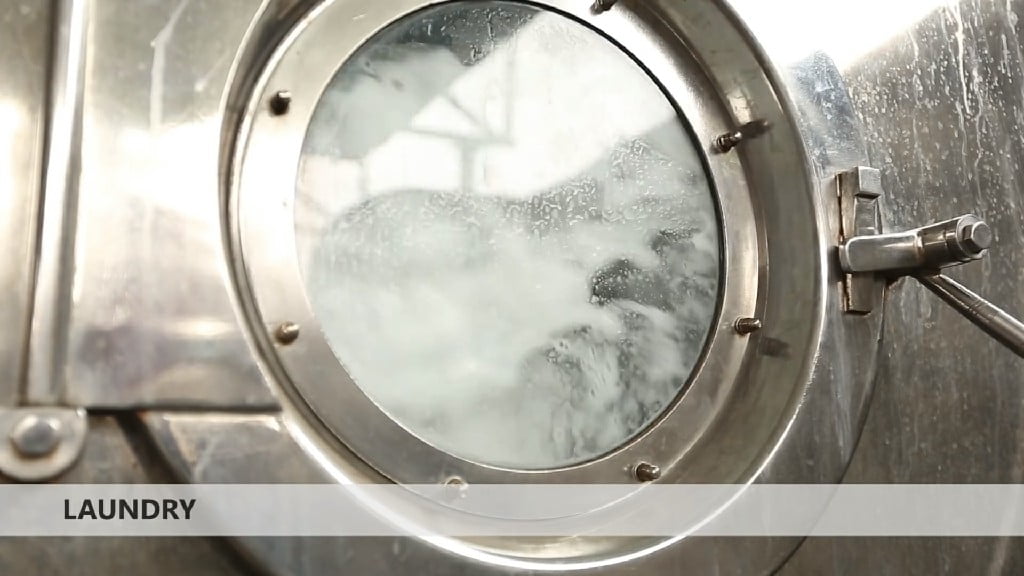 Laundry Services
Gurukul's Laundry Services is well set. Every 3 days in a week, a student can give his clothes and collect it washed and ironed it after 3 days.
Salon Services
Barbers are timely arranged for the Haircuts of the Children. We promote sober look of a person and so have planned a typical good looking hairstyle for every student.
Admissions Open
Apply Now