My God's Command Is Superior Than All – Jiva Joshi from Jetpur
Spirituality
---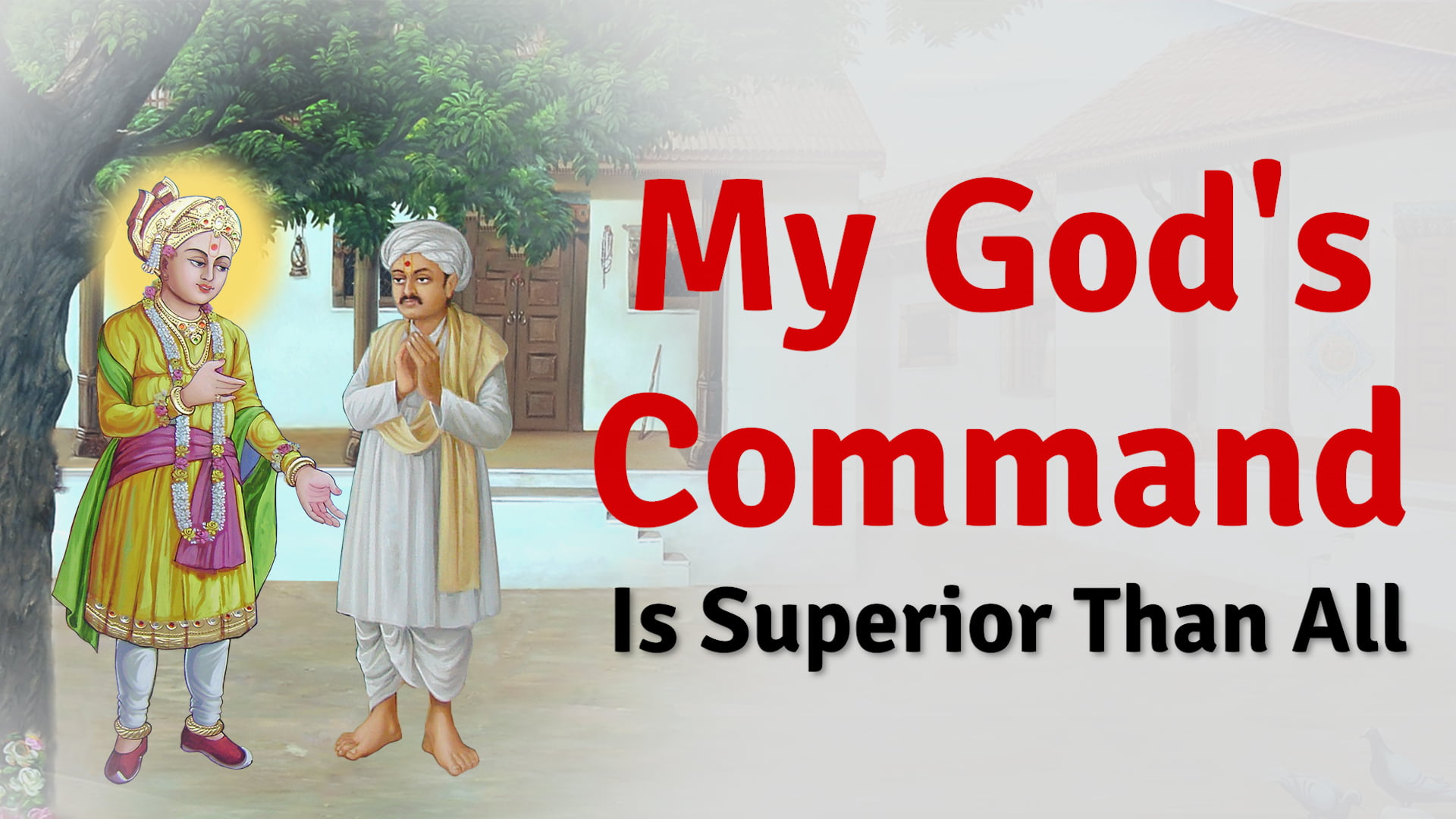 Jiva Joshi from Jetpur
Here is the blog of a brave & determined devotee named Jiva Joshi.
Supreme Godhead Bhagwan Shree Swaminarayan had given the Five Spiritual Disciplines for a householder devotee commonly known as Panch Vartman.
Among the five spiritual disciplines let's go ahead with the Fifth vartaman which is 05. Not to Eat Impos food.
Have you ever heard that thought turns into action & action into habit & habit into character?
Of Course, you may have heard it, but my question is: What affects our thoughts? Well, you will understand at the end of this video!
Once, a beautiful village named Jetpur located in Gujarat was mostly populated with the brahmins.
One day the Village chief of Jetpur village with an intention to gain Punya, decided to offer a feast to the whole brahmin community of the village.
Darbar made an announcement & invited the whole brahmin community to his feast.
That day all the brahmins gathered there & started cooking the food, among them, few were so tasty minded that they started cooking with onion & garlic.
Where in that village there lived a staunch brahmin devotee of Bhagwan Swaminarayan named Jiva Joshi.
Who was following each & every command of Shikshapatri! where it has been also mentioned is shlok no. 186 which states that:
॥ पलाण्डुलशुनाद्यं च तेन भक्ष्यं न सर्वथा ॥ (186)
 All my devotees shall not eat onion, garlic, etc.
That afternoon when the food was ready to be served among these brahmins, few Brahims were jealous of Jiva Joshi & when they did not find Jiva Joshi in the feast they thought: this is the right time to spoil the name of Jiva Joshi.
Thus, they came to the darbar & said: Darbar if all the brahmins are eating at your feast & if anyone is left behind with hunger then, you will not be getting the complete Punya.
Darbar said: but, I have invited everyone to my feast.
A brahmin said: but there is an egoistic brahmin who pretends to be more religious than all others & will not be joining in today's feast.
Darbar said: okay, then Who is he we shall call him & sought out the matter.
Darbar then ordered his guards to go & call Jiva Joshi.
Jiva Joshi entered the hall & greeted Darbar with Jay Swaminarayan.
Darbar asked Jiva Joshi why aren't you accepting this feast?
With politeness, Jiva Joshi replied: Kindly forgive me because I am a devotee of Bhagwan Swaminarayan & I don't eat Onion & garlic which has been added into every dish. 
But all of you carry on & don't mind from my side.
Another brahmin shouted: watch darbar, we have already told you that he is so egoistic that he doesn't even care for your words.
Listening to these fire-boosting words Darbar said: Jiva Joshi I think at least now you will be eating with them in this feast!
Jiva Joshi replied: It's the command of my beloved God so how can I violate his command?
Further, the Darbar becomes angrier & gives a brutal, fatal choice.
Jiva Joshi then listen: If you don't want to eat in this brahmin feat, then without taking anything you have to walk out from this village.
So choose what you want?
It is very difficult to make a choice from this & anyways what is the matter?
Just eating onion, garlic food once, a very simple matter.
Once after eating you can do prayashchit & make everything normal.
But Dear students you may be surprised that Jiva Joshi made a great choice to leave the village without taking anything just for God's command.
For so many years his ancestors stayed in the same village, where he had his own house, land… living hood necessities.
But, he didn't care for any of these, without any panic, hesitation he left the village with his family.
They were having only one refuge of Bhagwan Swaminarayan.
So, they thought that anyways we belong to Bhagwan Swaminarayan, at the cost of his command we have left the village so let's take his shelter now.
The whole family came to Junagadh, where Bhagwan Swmainaryan was present.
All of them had the darshan of Bhagwan Swaminarayan & then, Maharaj asked what happened?
Jiva Joshi narrated the complete incident that happened.
All other devotees over there were stunned by seeing what sacrifice they had made. Without taking money, property, or anything they have walked out with just clothes on their body.
But Bhagwan Swaminarayan is the Supreme God right?
If someone is sacrificing for his command, then God is always there to take care of his devotees.
So immediately Bhagwan Swaminarayan wrote one letter to his prominent devotees Bhagu & Mulu & said this is my devotee Jiva Joshi now he has nothing along with him & now you have to take care of him & provide him with the living necessities.
Help him to settle down everything.
"God love's taking care of one who follows his command."
Later, along with the family, Jiva Joshi went to Pithwadi. On reaching there the devotees happily welcomed & from that incident lifetime Jiva Joshi stayed over there & performed the great devotion of Bhagwan Swaminarayan.
Likewise, Jiva Joshi noted down his name into the queue of staunch devotees of Bhagwan Swaminarayan.
What a legendary devotee Jiva Joshi was.
There are many factors needed to be understood from this charitra!
If you see you may get that: 
How is the faith of Jiva Joshi towards God's command?
How is the God-like Bhagwan Swaminarayan?
How are the other devotees like Bhagu & Mulo?
That they have taken complete care of the entire family of Jiva Joshi. 

Who does such a big favor in this kaliyug? 

These Bhagu & Mulu were not the relatives of Jiva Joshi but they have thought that if he is the devotee of Bhagwan Swaminarayan then he is my true relative, my true brother.

With this attitude, with this intention & emotion, these two devotees have helped & settled the family of Jiva Joshi.
Dear Students,
Why Jiva Joshi did not accept the food?

You may have heard

"Food affects our mind"

but let's see how

"Food affects our destiny."
Let me tell you the series:
"As the food, so the mind; as the mind, so the thought; as the thought, so the action; as the action, so the habit; as the habit, so the character; as the character, so the destiny."
So let's never have onion, garlic food, outside impious food, non-veg food & let's have the right & pious food & become a staunch devotee of Bhagwan Swaminarayan like Jiva Joshi.
To know more about all the Panch Vartaman (Five Fundamental vows of  a devotee) click the link below:
https://gurukul.org/blog/spirituality/panch-vartaman-ideal-pathway-to-enhance-spiritual-elegance-towards-god/