Satsang yatra to Yadgiri 2019
Spirituality
---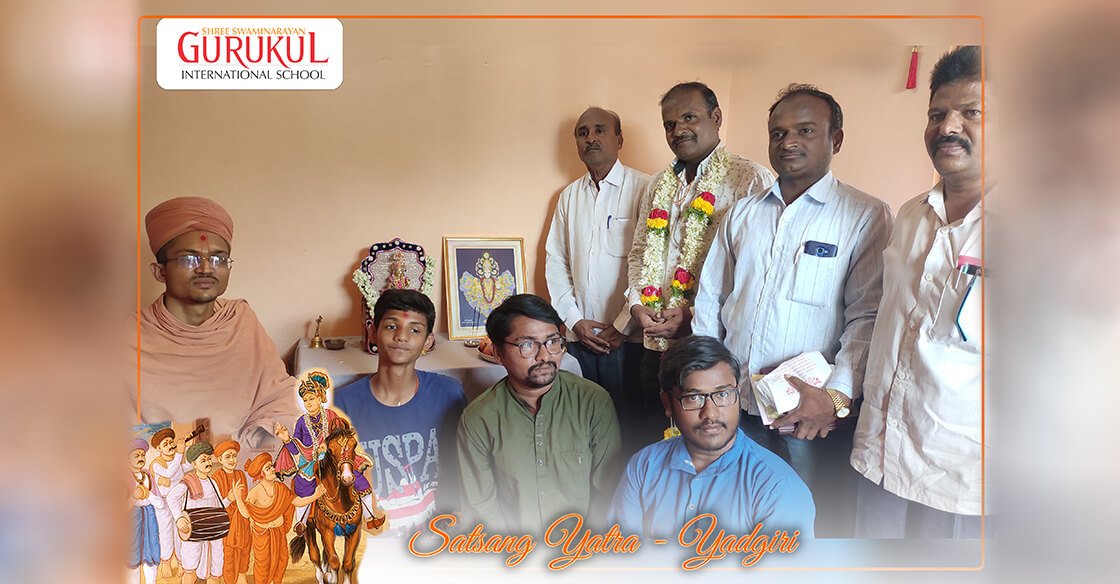 Satsang Yatra Yadgiri-2019 :
Gurukul always stands unique in transforming life of the students, staff and the people in the society. Our saints left the materialistic world to serve the mission of Supreme Lord Swaminarayan.  Though Swamijis are blessed with everything by Lord Swaminarayan, they feel free to do any kind of work for the mission of god.
All saints, staff members and students of Gurukul started Satsang yatra to different cities and even to villages just to make the parents and their relatives to understand the essence of God in one's life and make them pious by narrating the moral stories (Amrut Vachan by saints) and the Darshan of Swaminarayan Bhagwan.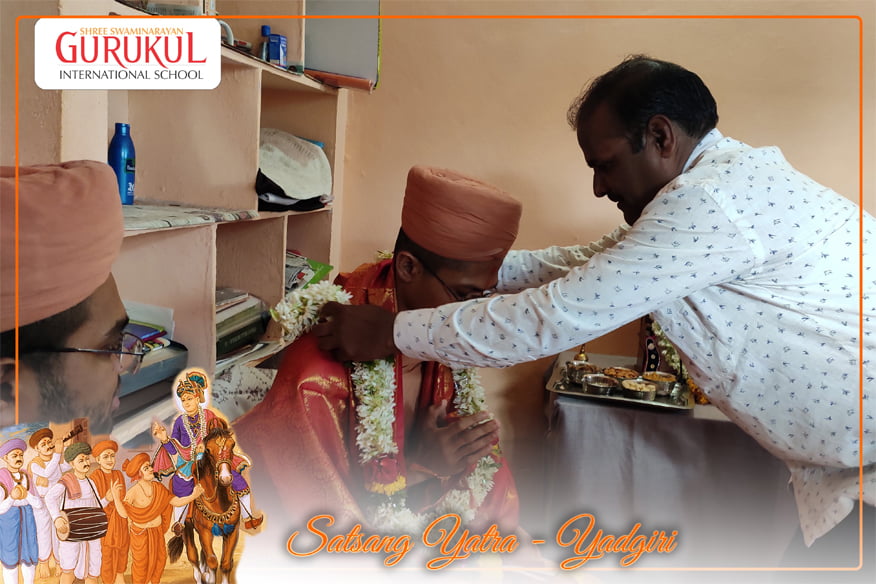 We, the Gurukulites are very lucky enough to be associated with Gurukul organisation by studying or working here. In Gurukul, we are enlightened about the Sanskar, Sadvidya and Brahmavidya by the param Pujaniya Swamiji. In order to attain this kind of knowledge one must be connected to Gurukul and other people in the society also should get a chance to understand the purpose of life and also make them to walk in the right path.
On 14/07/2019 Param Pujaniya Rushicharandas Swamiji, Param Pujaniya Nayanpriyadas Swamiji, staff members and students of Gurukul Kalburgi started Satsang yatra to Yadgir with the divine prayer to Lord Swaminarayan. We started our journey in the morning at 7:30 am by singing kirtans and chanting the name of god Swaminarayan……. Swaminarayan…….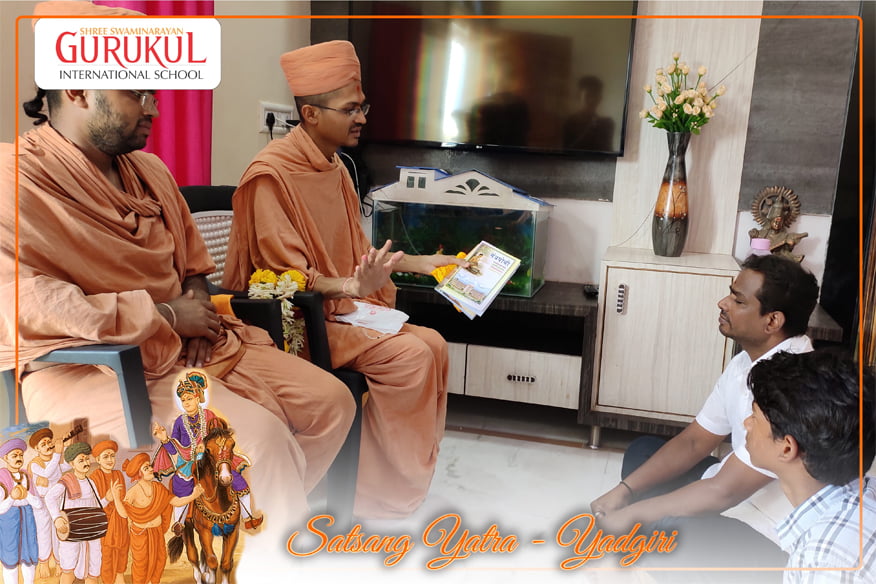 By the time we reached Yadgir, all the parents were ready to welcome us to Yadgir and to their homes. According to the schedule we started visiting parents' houses with chanting "Swaminarayan……. Swaminarayan…….".
In each and every home, Swamiji performed Arti, Pratistapan of Swaminarayan Bhagwan. Parents felt extremely happy that, being saints, they themselves came to our homes to give darshan and perform puja.
With the huge happiness parents honoured saints. Meanwhile Swamiji said "We need Gurudakshina from you" for a moment parents were surprised thinking like, what to give? How they ask on the face?  Later by listening to the Gurudakshina of saints, parents were shocked  because saints asked to leave their bad habits as a Gurudakshina. It was the most heart touching and life changing moment.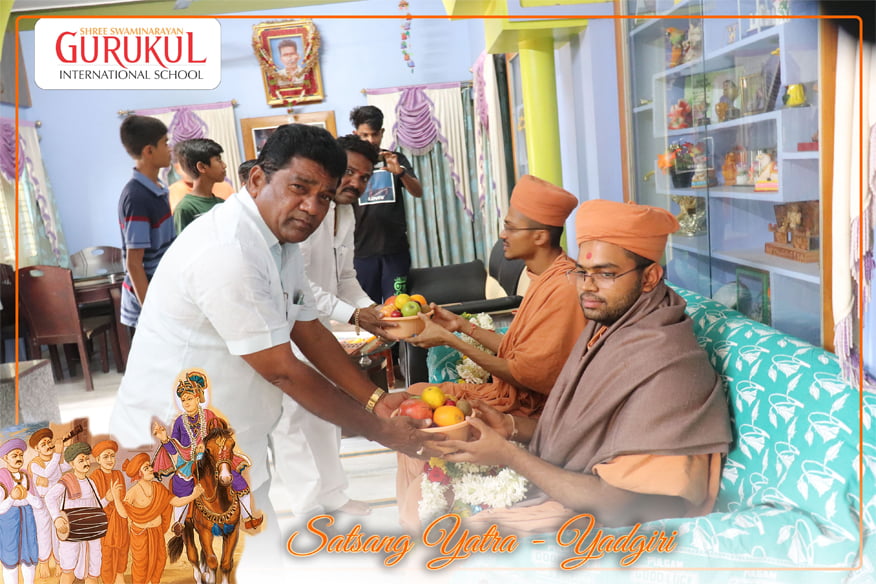 Saints blessed them with a mala so that they can start their day by chanting name of god ,they can overcome with all difficulties in their life and Bhagwan Swaminarayan bless them with lots of happiness and peace in their family.
Shree Swaminarayan Gurukul believes in transforming children, who will shape the future world. It transforms the lives of students with the unique value framework of Vidya, Sadvidya & Brahmavidya.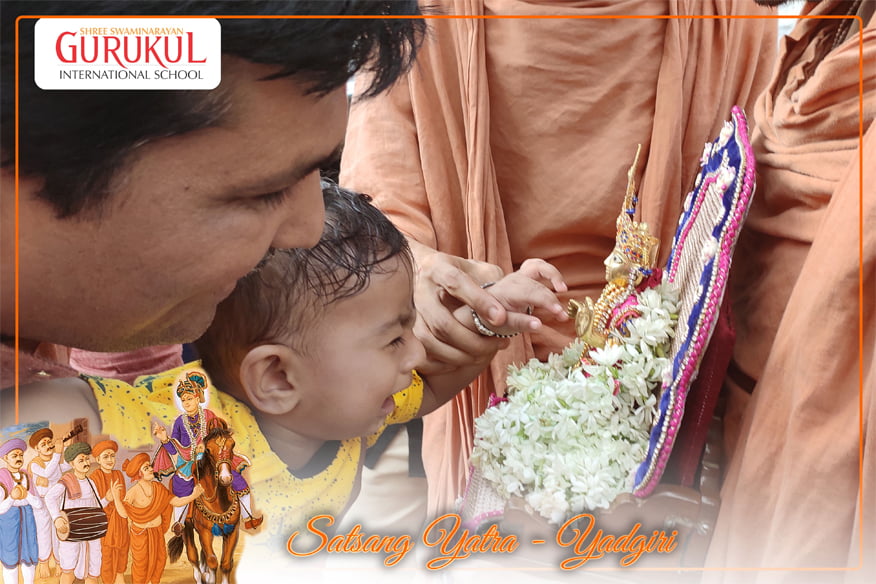 Vidya :
Vidya stands for Modern Education, which develops the values like Leadership, creativity, knowledge, curiosity, and dynamism amongst other values within the students.
Sadvidya :
Sadvidya Stands for Traditional education, which develops values like gratitude, integrity, non-violence, empathy and breaking down bad habits within the students.
Brahmavidya :
Brahmavidya stands for spiritual education, which develops the values like faith in God, devotion to God, deep affection with saints, non-attachment, self-realization, and God-realization within the students.
Join this noble mission of "Transforming Life, Transforming World" as a Student, Teacher, Parent, Employee, Volunteer, Member or a Devotee.